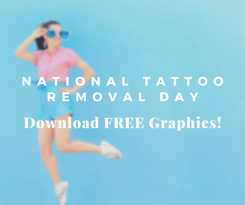 National Tattoo Removal Day is less than one week away!

Last year, Astanza was proud to announce the first National Tattoo Removal Day on August 14th. It has been quite a year since then, and we're excited for this year's celebration!


As the number of laser tattoo removal procedures continues to increase each year, it only made sense to dedicate a day to celebrate this innovative procedure, support the patients that seek laser tattoo removal, and recognize the practitioners that provide this cutting-edge procedure; we made an effort to officially register August 14 as
National Tattoo Removal Day
.
National Tattoo Removal Day embraces all motivations for laser tattoo removal and encourages patients with tattoo regret to connect with a laser tattoo removal clinic and remove their unwanted ink. Laser tattoo removal is used to completely remove unwanted tattoos, selectively remove specific parts of a tattoo, and lighten tattoos in preparation for a cover-up tattoo.
Feel free to use the official National Tattoo Removal Day logo to promote National Tattoo Removal Day. You can also click this link to download free graphics to share on your social media accounts and website.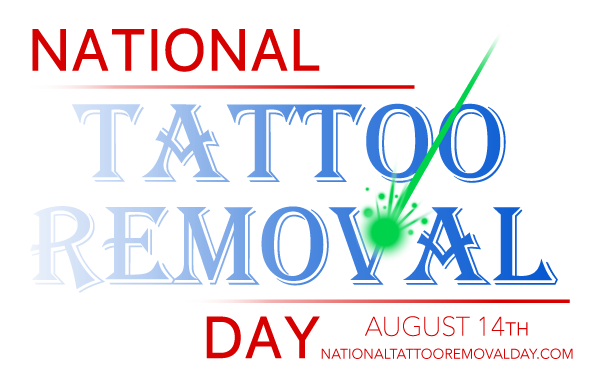 We encourage all tattoo shops, physicians, medical spas owners, and entrepreneur clinics to join us in celebrating National Tattoo Removal Day! Remember to use #NationalTattooRemovalDay when posting tattoo / tattoo removal photos and videos for National Tattoo Removal Day. Visit nationaltattooremovalday.com for more information.
Join us and numerous practitioners around the world in celebrating by:
Posting your before and after photos on Facebook, Twitter, and Instagram
Sharing #NationalTattooRemovalDay to spread the word and generate buzz
Offering special promotions to new and existing customers
Blogging on your website about National Tattoo Removal Day
Liking National Tattoo Removal Day's official Facebook Page:

https://www.facebook.com/nationaltattooremovalday/
Following and share National Tattoo Removal Day's Facebook Event:

https://www.facebook.com/events/380795375884064/
Downloading free #NationalTattooRemovalDay graphics below and share them on social media
Click to download marketing materials to celebrate National Tattoo Removal Day!