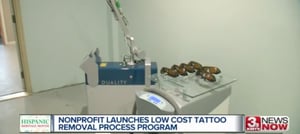 Generation Diamond, one of Astanza's non-profit organization partners, officially launched the start of their laser tattoo removal training program using the Astanza Duality laser. Generation Diamond plans to serve previously incarcerated individuals in the greater Omaha, Nebraska area by removing visible, offensive, regretful, or gang-related tattoos. Their hope is to give people in their community a second chance and better resources for job opportunities.
The volunteer run program started in 2016 and offers a wide variety of re-entry programs designed to assist former inmates and young adults. Generation Diamond was recently featured on Omaha's local television station, KMTV. Click here to read the news feature and watch the full interview below.
"We help people that were recently released from prison and jail, but right now we're helping everybody. Anybody that shows up here seeking our help, we're here for them," says Blanca Mejia, founder. "My goal is to make sure they don't have a reason to go back to jail or prison. I want to be able to say, here's everything you need - there's no reason to go back. We have people who are looking for jobs, and they may get some, but they can't advance their life or to another level because of the tattoos they have."
Among all of the aesthetic services our lasers provide, laser tattoo removal aligns most with Astanza's purpose of #changinglives. We are proud to partner with non-profit organizations like Generation Diamond to help individuals remove unwanted tattoos and regretful reminders of their past in exchange a second chance and better employment opportunities.
Generation Diamond is currently offering free to low-cost laser tattoo removal using the Astanza Duality Q-switched Nd:YAG laser.
Astanza laser technology is used by numerous non-profit organizations and corrections facilities nationwide, including Homeboy Industries, Southwest Tattoo Removal Program, the Jail Ministry of Elkhart County, the Texas Juvenile Justice Department, and more.
To learn more about how non-profit organizations and corrections facilities are using laser tattoo removal to change lives, contact us or watch the pre-recorded webinars below: