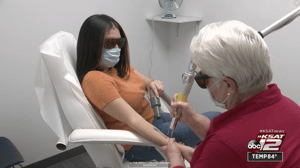 Astanza is proud to partner with numerous non-profit organizations around the nation to deliver effective laser tattoo removal treatment for previously incarcerated individuals, retired gang members, troubled youth, trafficking victims, and other people with tattoo regret.
SouthWest Tattoo Removal Program in San Antonio, Texas, was recently featured by local news station KSAT 12 for their life-changing work featuring the Astanza Duality Q-switched Nd:YAG laser. In her interview, Loretta Kent, founder of SouthWest Tattoo Removal Program, shares the joys she has experienced from providing a clean slate for many of her customers.
"Prison and previous life do not have to introduce you to other people first before you get a chance to be who you are," said Kent. "You can put a cover-up over a tattoo, but that tattoo is still there, and every time you see it, it brings up those memories." Click here to read the news feature and watch the full interview below.
SouthWest Tattoo Removal Program's mission is to provide free removal for unemployed individuals or those on probation or parole. Other customers are eligible for affordable laser tattoo removal as low as $35, depending on their situation. These customers include people with face, neck, or hand tattoos who are looking for employment or who wish to enter the military. SouthWest Tattoo Removal Program's wish is to help people leave their past behind, free from prejudice or discrimination.
Astanza is much more than a laser provider. Our company purpose centers around giving back to communities and #changinglives for the better. We believe aesthetic laser treatments provide much more than a fresh look or confidence boost, especially laser tattoo removal. While many tattoo removal patients seek removal to part ways with a regretful decision, others pursue tattoo removal to heal or free themselves from a painful past and start a positive new chapter.
Other non-profit organizations that utilize Astanza laser tattoo removal technology include Homeboy Industries, Elkhart County Jail Ministry, New Skin Tattoo Removal, Tattoo Removal Ink, Texas Juvenile Justice Department, and much more.
To learn more about how non-profits are using the laser tattoo removal to impact lives positively, check out our pre-recorded webinar: Deinked for a Cause: The Story of Non-Profit Laser Tattoo Removal. During this webinar, individuals interested in starting a non-profit will learn about the most significant challenges non-profits face, how to fund a non-profit organization, and the laser technology needed to perform safe and effective laser tattoo removal.