Astanza takes pride in working with nonprofit and correctional organizations across the nation that provide laser tattoo removal to communities in need. Nonprofit Garden Pathways is doing just that thanks to its free laser tattoo removal program featuring the Astanza Duality Q-switched Nd:YAG laser.
Garden Pathways is a community-based nonprofit in Bakersfield, California. Founded in 1997, the nonprofit provides diverse mentoring and education programs designed to lead individuals to educational advancement, employment, family stability, self-sufficiency, healthy living, and improved quality of life.
We recently interviewed Chief Operating Officer, Juan Avila, to get an inside scoop about Garden Pathway's hopes for its laser tattoo removal program. Check out the video or read the transcribed interview below to learn more.
---
Tell us about Garden Pathways' history and mission.
"Garden Pathways started as a youth mentoring organization with a preschool, daycare center, and afterschool program. From that, it evolved into a mentoring program for adults facing multiple challenges in their lives. We work with adults that have experienced a lot of trauma and adverse childhood experiences and learned the best way to mitigate trauma later on in life is to connect an individual with a positive adult role model. Garden Pathways' mission is to transform lives from the inside out through loving and nurturing relationships. We strongly believe in the transformational power of genuine connections, heart-to-heart, and human-to-human connections. Our target population includes formerly incarcerated, those struggling with community violence, gang impacted and affiliated individuals, those experiencing homelessness, addiction, foster youth, and youth involved in the juvenile justice department."
Why did you decide to offer laser tattoo removal services?
"We saw a gap in our mission. We transform lives from the inside out, but many of the individuals we served had visible tattoos that were hindering them. Many of them transformed on the inside already–they changed their life perspective, but their visible tattoos were hindering them from getting a job or integrating back into society. We received a generous grant from Bolthouse Properties to fund and purchase the Astanza laser equipment to offer free laser tattoo removal onsite, so our clients' internal transformation could be reflected on the outside."
Astanza is proud to partner with numerous nonprofit and correctional organizations nationwide. Our mission of changing lives aligns with the mission of these organizations and is carried out perfectly with laser tattoo removal treatment. More than just selling lasers, Astanza thrives on providing clean slates and fresh starts to individuals in need.
Who performs the laser treatments? Do you have volunteers for the laser tattoo removal program?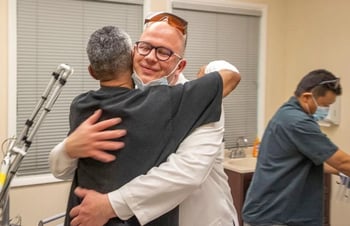 "There are a lot of regulations on who can fire and operate a laser. In California, you need a doctor to provide oversight and make sure proper procedures are carried out, and registered nurses or nurse practitioners can operate the equipment. When we got the grant, we knew that was going to be a big hurdle. But Adventist Health, a local health-based nonprofit, being two blocks away from our office believed in our mission and asked to partner with us. That way they could also contribute to the community by sending volunteers to provide the service for free."
Every state has its own set of regulations for laser tattoo removal. There are specific rules for who can fire a laser, who can delegate the procedure, and who can own a laser system. As Juan shared, Garden Pathways was able to partner with Adventist Health to outsource volunteer nurses to perform the treatments. Juan and Adventist Health RN Shawn Pettis were recently interviewed by The Bakersfield Californian, a local newspaper in Kern County, about the positive impact they've had on their community thanks to the new laser tattoo removal program. Click here to learn more about researching your state's laser regulations.
Why did you choose Astanza technology and how has Astanza helped you as a client?
"We wanted to start the tattoo removal program like our partner in Los Angeles, Homeboy Industries. We didn't even know that they used Astanza lasers at the time. One day I saw Dr. Oz on the Today show and the topic was tattoo removal. He was talking about tattoo removal and doing a demonstration, and the laser he was utilizing was an Astanza laser. So we started looking at Astanza. We looked at other competitors, products, and vendors as well. Their equipment was good and competitive, but what impressed us most about Astanza was their understanding of the nonprofit sector. They shared a lot of our values, and their ability and understanding to support nonprofit missions is what stood out and compelled us to want to work with Astanza as opposed to any other vendor."
Astanza is the preferred choice for nonprofit organizations around the world. We provide award-winning service and training, customer service, and marketing support to help nonprofits build a successful laser tattoo removal program. One of the best resources we've created for nonprofit organizations is our on-demand webinar, Deinked for a Cause – The Story of Non-Profit Laser Tattoo Removal.
Is there a changing lives moment you've experienced since adding the laser tattoo removal program?
"We had an individual who spent over 10 years in prison, has tattoos all over his face. He was recently released about a year ago and is finally able to get tattoo removal through our program. He has a granddaughter and the reason why he decided to get tattoo removal I because he hasn't had the opportunity to embrace her because she's scared of him. He can't wait to remove his tattoos so his granddaughter's not afraid of her granddad. Being able to provide that service to help someone be an awesome grandpa really touches his heart."
To learn more about Garden Pathways, visit https://gardenpathways.org/, call (661) 633-9133, or consider donating or volunteering.