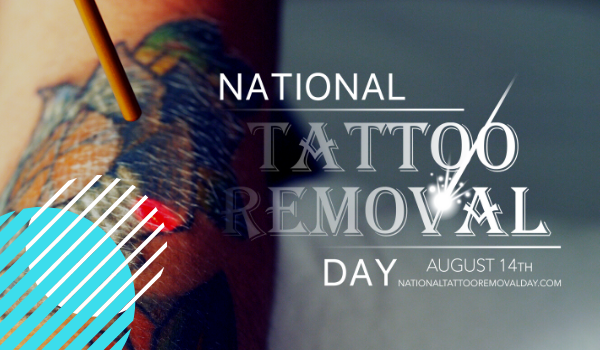 Astanza was thrilled to celebrate the third annual National Tattoo Removal Day on August 14, 2020! Our clients, students, friends, and social media followers commemorated this nationally recognized day with us, spotlighting how laser tattoo removal is #changinglives for patients, communities, and business owners. To celebrate this year, we hosted laser tattoo removal training, offered free treatments, and featured businesses on social media, and connected hopeful tattoo removal patients with laser clinics in their area.
What is National Tattoo Removal Day?
National Tattoo Removal Day, August 14, celebrates laser tattoo removal practitioners, businesses, and the many advancements in laser technology that promote safe and effective ink removal. We also celebrate the laser tattoo removal patients who have changed their lives by deciding to remove their unwanted ink. If you've been on the fence about removing a tattoo or pursuing laser tattoo removal as a business endeavor, NTRD is the perfect time to take the first step.
How Astanza Celebrated NTRD in 2020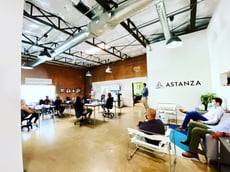 TRAINING: August 14-15, Astanza hosted New Look Laser College at our Dallas headquarters!* New Look Laser College is the laser tattoo removal training division of Astanza Laser. During a two-day NLLC course, students gain in-depth knowledge of the laser procedure and get hands-on practice with the Astanza TrinityTSR, Astanza Duality, and DESCRIBE® PFD Patch removing real tattoos from volunteer patients.
Students also learn essential marketing and business strategies for starting a successful in the tattoo removal industry. We were thrilled to kickstart this group of students' life-changing journey with tattoo removal on National Tattoo Removal Day! Click here to view the remaining 2020 NLLC courses.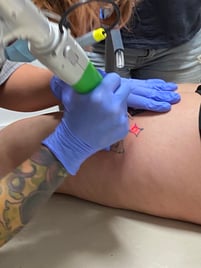 TREATMENTS: In conjunction with National Tattoo Removal Day and New Look Laser College, Astanza offered free laser tattoo removal treatments on August 13-15! NLLC students typically treat patients during the course, but we wanted to extend the opportunity for treatments so that we could serve more people in the Dallas community.
During the National Tattoo Removal Day weekend, our New Look Laser College students provided free laser treatments to 25-30 people under the supervision of our certified course instructors.* Astanza will continue to treat these individuals for free to help them achieve their tattoo removal goals, regardless of tattoo size, location, or ink color. If you're interested in finding an Astanza Laser tattoo removal clinic near you, submit a message on this page.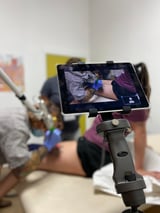 SOCIAL MEDIA TAKEOVER: Our Astanza crew had a blast promoting NTRD on Instagram and Facebook in the days leading up to August 14! We shared live treatment videos, staff testimonials, fun tidbits from HQ, and featured Astanza clients in our stories!
To be featured in our NTRD Instagram highlight, we encouraged our followers to share posts and stories using the hashtag #NationalTattooRemovalDay, and tag Astanza's account. We loved seeing our clients, including LaserAway and Homeboy Industries, use NTRD to promote their clinics and increase brand awareness! Follow Astanza Laser on Instagram and view our NTRD highlight!
BUSINESS OPPORTUNITY: To help our clients spread the word, we offered them free graphics to use on their website, social media, printed collateral, and more. We loved seeing clients use these resources and National Tattoo Removal Day to create promotions and marketing campaigns to increase their laser tattoo removal sales. For many laser businesses, National Tattoo Removal Day is their most profitable day of the year, generating thousands in potential revenue in a single day of only laser tattoo removal treatments.
How Businesses Can Get Involved Next Year
Your business, clinic, or med spa can join the fun next year! Now is the perfect time to reevaluate your current tattoo removal business efforts or explore your options to invest in leading tattoo removal technology! Laser tattoo removal continues to be a highly sought-after procedure, and tattoo shops, med spas, and plastic surgery centers have increasingly invested in laser tattoo removal technology due to its exceptional cost-effectiveness and high patient demand. To get started investing in laser tattoo removal, click here or below to subscribe to the Ultimate Starter Kit for Growing Your Business with Laser Tattoo Removal!
Happy National Tattoo Removal Day from Astanza Laser and New Look Laser College!
* Due to the ongoing COVID-19 pandemic, Astanza Laser and New Look Laser College adhere to guidelines from the CDC and local authorities to maintain a safe and healthy environment for our clients, students, patients, and staff. This includes, but is not limited to wearing masks at all times, taking each individual's temperature, regularly washing hands and disinfecting surfaces, and limiting the number of people inside to no more than 10 at a time. For more information on our COVID-19 safety protocols, please contact us.