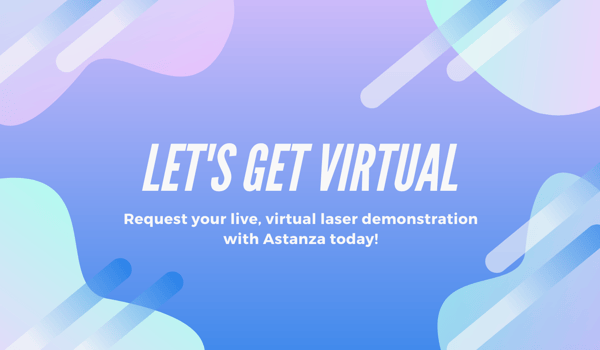 Live, virtual laser demos of Astanza's full product line are now available! We're excited to offer convenient, online laser demonstrations to help eliminate the hassle of traveling, answer your clinical questions, and observe the laser being used on patients. Our goal is to give people insightful resources and can't-miss opportunities to learn more about our laser technology and make purchasing even more straightforward. Here's what you can expect during a virtual laser demo:
The Virtual Laser Demo Experience
During your virtual laser demo, you'll be accompanied by your Astanza Representative or an Astanza Biomedical Engineer. We'll walk you through an overview of the device(s) you're interested in, including insights into practical application. To help further demonstrate the laser, we'll also show you a live treatment performed in-house at our Dallas headquarters. Viewers can have their questions immediately answered and explained during this exclusive face-to-face opportunity with our world-class team members.
Lasers Available for Virtual Demos
Viewers have the option to demonstrate any device from our entire line of aesthetics lasers, including the new MeDioStar, DermaBlate, TrinityTSR, and Duality.
Learn more about the MeDioStar– the latest development in diode laser hair removal and vascular treatments with the largest spot size in the industry. The MeDioStar is the newest addition to Astanza's product line, and it's revolutionizing the way practitioners treat their laser hair removal patients and model their businesses by eliminating unnecessary treatment time. The DermaBlate is the top-selling Erbium:YAG laser used by practitioners to perform safe and effective fully ablative and fraction skin resurfacing treatments.
Additionally, take a virtual tour of the Duality - the most reliable dual-wavelength Q-switched Nd:YAG tattoo removal laser effective in removing dark, stubborn ink colors. Viewers can also demo the TrinityTSR, a 2-laser system comprised of the Duality (532 nm and 1064 nm) and the Eternity TSR (694 nm). As a unit, the TrinityTSR can effectively remove all tattoo ink colors, even stubborn blues and greens.
When you become a client by buying one of our aesthetic lasers, you'll be able to get free training and clinical support for life, including virtual demos. Learn more about it here.
Logistics and Set-Up
We can stream live, virtual laser demos via Google Hangout, FaceTime, Skype, or any video-chat technology that is most convenient for your viewing experience. To schedule your virtual laser demo, submit the form on this page, and an Astanza Representative will contact you shortly to set-up your appointment and collect some basic information. Their goal is to ensure you get what you're hoping to gain from your virtual demonstration. To be eligible to view a virtual laser demo, you must pre-qualify for financing. Click here to pre-qualify now.
We'd love to help our clients and prospects learn more about our products through this convenient new option! Virtual laser demos are perfect for those who are unable to travel or whose busy schedules don't allow for a trip to our Dallas headquarters. Start your laser purchasing journey today by getting pre-qualified for financing and requesting your virtual laser demo!