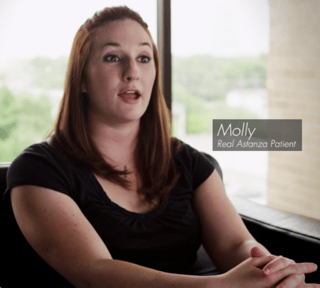 Astanza is the leading name in laser tattoo removal technology and the only brand that specializes in this field.
Astanza systems are chosen by the highest-volume tattoo removal providers in the world and deliver unsurpassed ink clearance for tattoos of all colors on all skin tones.
The video below interviews real patients that have completed the tattoo removal process or are currently having their tattoos removed.
You'll hear their motivations behind getting laser tattoo removal, their reviews about the results they've seen, and their thoughts about the tattoo removal process.
---
These are real patients with real stories that have not been paid in any way for their testimonial.

Some of their thoughts on Astanza laser tattoo removal:
"I was expecting to have a big scar, I was expecting it to be very painful, and it was none of the above."

"I've had three treatments, none of which have been painful, and my tattoos are almost gone."

"I think that if you can handle getting the tattoo, you definitely can handle getting it removed."

"I've had no issue healing at all."

"It didn't leave a scar. As you can see, you can hardly tell anything was there."

"Fading – from start to finish – amazing."
---
Tattoo Removal can be Life-Changing
It's obvious that laser tattoo removal is an important decision for many patients. After years of living with a tattoo on their body, it's a significant commitment of time and money to have it removed.
Patients treated with Astanza systems see fast results, experience fewer side effects, and see complete removal across all ink colors.
In addition, part of the reason these patients are so happy is that they were given realistic and truthful expectations about the tattoo removal process.
Astanza spends two days of training time with all customers so that everyone learning the procedure feels knowledgeable about the science behind laser tattoo removal. Our company brand is based on science and facts, not hype – and we try to encourage our clients to have the same style when discussing tattoo removal with their patients.
By using the best technology and educating patients about the laser tattoo removal process, practices using Astanza lasers see higher patient satisfaction – like that of the patients in this video.
If you wish to talk to an Astanza tattoo removal expert, call (800) 364-9010.


For almost 10 years, Astanza Laser has been helping tattoo shops around the country establish successful laser tattoo removal practices. On this upcoming webinar, we are going to hear from 3 Astanza tattoo shop clients that are creating better artwork for their clients and increasing their profitability through the use of laser tattoo removal technology from Astanza.
Watch this webinar to hear from tattoo shops on how to increase the profitability of your tattoo shop, how to market laser tattoo removal, attract new customers, and more! There will be an extensive question & answer period as well.
THIS WEBINAR TOOK PLACE 5/8/2018 – Click here to watch the pre-recorded video.
Learn More
Check out these other resources from Astanza: