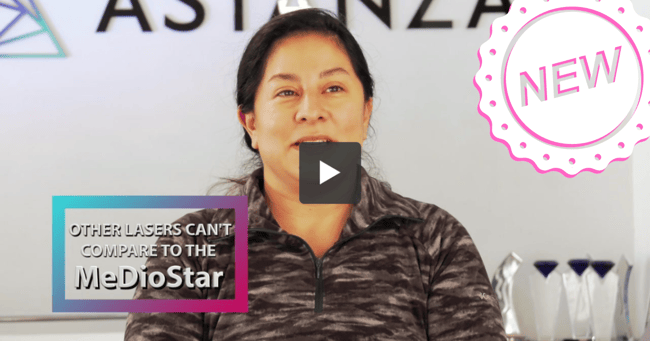 This week, we had the opportunity to interview patient Veronica after her Asclepion MeDioStar laser hair removal treatment performed by Carolyn Webb, RN, at our Dallas headquarters! In this clip, Veronica details her excellent treatment experience with the MeDioStar and answers questions regarding comfort level, treatment length, and more.
The MeDioStar is the leading diode hair removal laser in the US. It's known for its unparalleled speed, effectiveness, safety, and patient comfort. The MeDioStar is backed by Astanza Laser for installation, training, service, and ongoing business support.
Continue reading to hear this patient's testimonial on her MeDioStar laser hair removal experience! Watch the full video below or click here to access the clip.
Q: Have you had laser hair removal before?

"I have had laser hair removal before, and it (does) not even compare to this one. This one was so smooth," said Veronica.
Laser hair removal is one of the most popular aesthetic treatments available. As one of the most sought-after procedures, many current-day laser hair removal patients have likely undergone treatments with less modern technology. These older, less advantageous devices (still used in many clinics across the country) only perpetuate many longstanding negative beliefs that laser hair removal is painful, slow, ineffective, and not safe for all skin tones. New laser hair removal practitioners should be prepared to meet patients with a jaded view of this treatment due to being treated with inferior technology in their past. However, practitioners can also rest assured that the MeDioStar's newer features can help change those perspectives. Read more on debunking laser hair removal myths with modern technology like the MeDioStar.
TL&DR: Other older laser technologies can't compare to the MeDioStar.
Q: How comfortable was your treatment?

"My pain level was next to nothing. I felt a little prick around my ankle, and that was it. It was pretty smooth," said Veronica.
MeDiostar laser hair removal patients continue to find themselves pleased and impressed with how comfortable their treatments are. The reason? 360-degree contact cooling built into each MeDioStar laser handpiece increases comfort level! Laser manufacturers coined the term "contact cooling" to explain the laser's ability to cool the skin upon contact before, during, and even after laser energy emission. Read more about the additional benefits of built-in contact cooling in hair removal lasers.
Q: What did you think about the length of the treatment?

"It was over so quick! I didn't even know we were done," said Veronica.
One of the most common complaints against laser hair removal is that the procedure takes too long, especially for larger areas like the back and legs. The culprit? Laser spot sizes that are too small and can't cover large areas of skin at a time! "Spot size" is the radial distance of a laser's light beam, and it impacts the depth of energy penetration into the skin. While this may seem like a no-brainer to some people, the simple mechanics of using a laser with a larger spot size can make a world of difference when treating 5, 10, or 20 patients a day. The MeDioStar rises above slow-performing competitors thanks to its 10 cm2 laser spot size and can treat a full back in under 5 minutes. The MeDioStar also has smaller spot sizes available through a series of interchangeable handpieces for precise treatment of smaller areas like the face, neck, underarms, and bikini area. Read more about the best laser spot sizes for the most popular laser hair removal areas.
Q: Would you get the same treatment with the same laser again?

"I would get the treatment with the MeDioStar laser again because it was over really quick. I was amazed," said Veronica.
We're so glad that Veronica enjoyed her treatment and will continue to use the MeDioStar for her laser hair removal needs! Any seasoned business owner can agree that happy customers can also easily become repeat customers, generating more steady revenue for their business. We're proud to offer a device that has repeatedly helped locally owned "mom-and-pop" clinics as well as high-profile medical spas, increase profits, and create satisfied clients.
New Webinar: Adding Laser Hair Removal to Your Business
Thanks to the MeDioStar's competitive technological features and continued partnership with Astanza, medical spas, clinics, aesthetic professionals, and entrepreneurs have found a new way to expand their services and increase profits. We're excited to offer a new webinar, "Adding Laser Hair Removal to Your Business," to our viewers to dive into all the relevant topics prospective laser purchasers need to know to expand their business with this popular service successfully. Taking a step-by-step approach, we'll discuss the market potential, different types of lasers, safety requirements, laser laws, training, certification, purchasing, installation, and more. Click here or below to register to watch the webinar for free!
Also, check out the corresponding eBook: Expanding Your Aesthetic Business with Laser Hair Removal. It's free to download!
Special thanks to Veronica and Carolyn Webb for their voluntary participation and commentary on the MeDioStar experience!