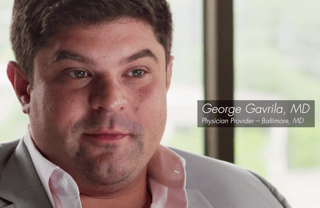 Tattoo removal is undeniably a quickly growing field, and services are in high demand. Physicians and existing practices looking to grow revenue are entering the field, adding tattoo removal to their list of procedure offerings.
Because different practices implement tattoo removal differently, they have different outcomes. "Success" in any field is subjective, but, at Astanza, we believe that treatment results, patient satisfaction, practitioner satisfaction, and profitability are all key factors of defining success with laser tattoo removal.
Below is a testimonial from Dr. George Gavrila, owner and physician at ProMD Health, an aesthetics and anti-aging practice in Baltimore. His practice performs laser tattoo removal under the Baltimore Tattoo Removal brand – here is his story about implementing the procedure.
---
Dr. Gavrila is sharing his honest thoughts about his experience and has not been paid for this video.
Here are some quotes from the video:
"...it doesn't need much maintenance. You don't have to baby the device."

"The return on the investment was tremendous."

"The best thing about Astanza lasers is that they can treat all skin types and all color types..."

"Our patients love Astanza's tattoo removal. It's very effective."

"They're there for you to be successful. It's truly a partnership."
---
A Smart Approach to Tattoo Removal
Dr. Gavrila took a unique and savvy approach when implementing tattoo removal into his practice. Instead of simply adding tattoo removal as another service to the list of procedures at ProMD Health, he created the standalone Baltimore Tattoo Removal brand. By having the focused brand, he was able to show his dedication for the procedure to his patients, go in-depth explaining laser tattoo removal, and benefit from the SEO-optimized name.
Baltimore Tattoo Removal is located within ProMD Health – the tattoo removal treatment room is just one room inside the larger practice. The two brands share office space, a waiting area, and staff. Besides the marketing budget and the laser equipment, there was no additional overhead to adding the procedure.
Dr. Gavrila heavily invested in SEO marketing from the beginning for the Baltimore Tattoo Removal brand, and currently ranks at #1 in search results due to his efforts. He also took the time to produce beautiful videos for the website that show patients what to expect when they come for an appointment.
By choosing quality technology for his practice (initially purchasing the Duality and later adding the Eternity) and making smart marketing decisions from the start, Dr. Gavrila paid off his laser within the first 8 months and exceeded $125,000 in revenue his first year with tattoo removal. Of course, as referrals and repeat patients grew, Baltimore Tattoo Removal has grown even further from there.
If you wish to speak with an expert that can help you implement tattoo removal, call Astanza at (800) 364-9010.
Learn More
Check out these other resources from Astanza: