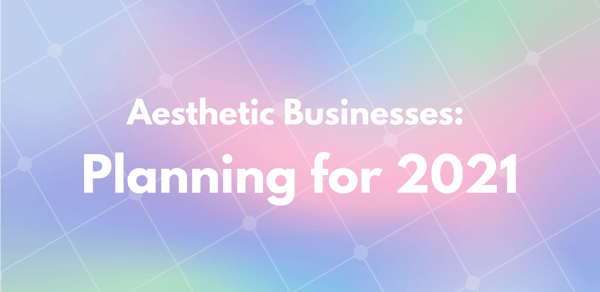 As 2020 comes to an end, there are not too many business owners that can honestly say that their plan for 2020 went just as expected. COVID-19 made us change our plans and have to pivot and focus on other areas of our businesses, such as how to stay open, how to comply with new social distancing protocols, etc.
While we couldn't plan specifically for the total unknown, let's face it: COVID-19 caught almost everyone by surprise, and we were all caught flat-footed. However, that doesn't mean you shouldn't have a sound business strategy in place. Regardless of whether you are running an aesthetic practice, med spa, laser tattoo removal studio, or other types of businesses, it's essential to your short-term and long-term success that you have a plan in place and everyone on your team is aware of it.
"If you fail to plan, you are planning to fail!"
- Benjamin Franklin
Planning for 2021
One thing is for sure when you start to make or refine your strategy for 2021; you will need to factor in some estimates for when COVID-19 effects will be wearing off and when the pent-up demand for aesthetic services will be ramping up. With a COVID-19 vaccine already being deployed across the United States, there is an excellent chance that by May or June 2021, things will be getting back to normal, and you will see that demand, as mentioned above, coming through your doors.
This return to normalcy has some definite ramifications for aesthetic practices. Aesthetic practice owners will need to make sure they have the right equipment, staffing levels, advertising, and more to meet this rise in demand.
To help you prepare for what 2021 has to offer, Astanza is very excited to welcome Mark Fenner, Scaling Up Coach and Strategist, to co-host a webinar with our VP of Marketing, Brian Hasenbauer. During this one hour webinar, we'll dive into these five key points to support your business planning and success, no matter what comes your way:
What are you passionate about? - Do you have core values or are you "soulless?"
Your Culture and Your People - Who would you keep? Who don't you want ever to show up again?
Huddles - Not for just when it's cold out
Metrics - We do beauty, not data, so why does it matter?
Strategy - What do hedgehogs have to do with anything?
Planning for success may seem hard to tackle, but with the right vision, tools, and plan, your business can be well on its way to victory. By defining your company culture and core values, your team can work towards the same goal and deliver actionable strategies that lead to business growth.
The Scaling Up platform and methodology was developed by Verne Harnish, founder of the world-renowned Entrepreneurs' Organization with over 14,000 members worldwide. Scaling Up coach, Mark Fenner, is excited to share his expert advice and insight to help aesthetic business owners implement positive internal change to achieve rapid growth and improved profitability.
Learn how to assess your culture strategy routines, optimize your strategic goals, enhance your team's focus and measurement, and nurture planning routines for increased accountability and success.
Webinar Information:
The webinar, "5 Keys to Success for Your Aesthetic Practice in 2021" will livestream on Thursday, January 14, 2021 at 1:00 PM CST. All registrants will receive a recording after the live stream. Register to watch this free webinar by clicking here or below. See you then!