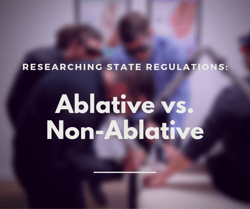 What's the difference between an "ablative" and "non-ablative" treatments? Why does it affect your state's laser regulations?

We'll answer these questions and more in this blog post tackling the how ablative and non-ablative laser treatments can be regulated differently. First, it's important to understand the difference between these these two types of treatments.



Ablative Lasers
An ablative laser is one that is designed to vaporize, cut, or otherwise modify skin tissue. These procedures may draw blood, and are largely referred to as ones that will remove tissue at the epidermal or dermal level. A classic example of an ablative laser treatment is one for resurfacing, typically a Carbon Dioxide or Er:YAG laser gain medium.

In general, ablative lasers are more strictly regulated. It's typically required that a medical professional fires the laser and delegates treatments to other practitioners onsite. Some states, however, don't differentiate between the various types of Class 4 laser devices, whether they're ablative or non-ablative. Thus, the procedures will occasionally face the same level of regulation.
Non-Ablative Lasers
Non-ablative lasers benefit from the luxury of potentially having fewer side effects and less risk - not to say these devices aren't dangerous! Most states require that laser users have documentation stating they have completed a training course covering critical points of safety, physics, complications/contraindications, and establishing good patient care protocols. Additionally, the role of a medical director will be defined.

Examples of non-ablative procedures include laser tattoo removal, laser hair removal, and skin resurfacing using Er:Glass, Nd:YAP, Thulium, and several others, with laser wavelengths between 1320nm and 2000nm. It's important to note that laser hair removal may be viewed as an ablative procedure, simply because it targets and burns hair follicles. Most states have very clear rules around laser hair removal, so it's usually a little easier to find LHR regulations, as opposed to any of the other procedures aforementioned.
Play it Safe - Training is Important!
Even if the treatment you're hoping to perform is "non-ablative", keep in mind that these devices aren't foolproof. Without proper training, it can be easy to use the devices incorrectly and unknowingly perform an ablative treatment. These are obvious issues for you as a practitioner, as well as your patient. That's why it's important to learn through an appropriate training course and understand the protocols that are provided to you by your laser manufacturer.

Opinion:

"Understand that skin resurfacing has stricter rules than laser hair removal and laser tattoo removal. Read closely on the rules you find - LTR/LHR doesn't cut or vaporize skin tissue the same way ablative treatments do.

- Justin Arnosky, VP of Clinical Education for Astanza Laser