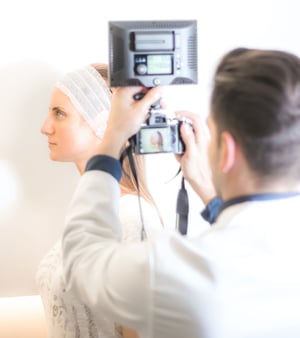 An essential marketing tool that aesthetic practitioners use on their website and during consultations is an excellent portfolio of before and after photos they've cultivated over time. Before and after photos, along with positive patient reviews, are tangible proof that your aesthetic laser treatments are safe, effective, and worth investing in.
Regardless of whether you offer laser tattoo removal, hair removal, or skin resurfacing treatments, before and after images are crucial to every practitioner's success. And while quantity is impressive, the quality of your before and after photos matters just as much (if not more) when attracting potential consumers and keeping existing customers returning for more treatments.
Luckily, it only takes a few simple changes to significantly improve your aesthetic practice's before and after photos. Minor adjustments like implementing consistent patient positioning and lighting can enhance your before and after portfolio and help your business stand out amongst competitors in this ever-changing aesthetic industry. These small adjustments can strengthen your gallery's quality and professionalism and provide your prospective clients with a more realistic representation of what they can expect from your laser treatments.
You might be thinking, "Well, I don't have any photography skills or camera equipment to take quality before and afters." While a new, professional digital camera can help, most phones and tablets today feature high-performance cameras that can capture high-quality results as well - especially when paired with the right software, like RxPhoto.
RxPhoto is the leading before and after photo management software for aesthetic practices. This HIPAA-compliant software offers secure patient cataloging and a wide variety of photo-taking features to help you capture consistent pictures for every treatment. RxPhoto is hosting an informative webinar to help practitioners capture the best photos for their practice.
Webinar: Capture Standardized and Consistent Before & After Photos
Join RxPhoto expert, Emily Alten, and Managing Partner, Scott Alten, to learn how to capture standardized and consistent Before & After photos of your patients and customers. Invite your whole staff!
When: Oct 1, 2020 @ 5:00 PM Eastern Time (US and Canada)
Topics covered during the webinar will include:
Proper Patient Positioning
Using On-Screen Guides Properly
Tips and Tricks for After Photos
Adjust Lighting inside RxPhoto
Best Practices in Stabilization, Backgrounds, and LIGHTING.
Click the following link to register for the webinar: https://rxphoto.zoom.us/webinar/register/WN_4HHmomZ2QzK9JaExMH857w.
Astanza + RxPhoto Discount on Before and After Software
Astanza's training division, New Look Laser College, is an avid user of RxPhoto and actively uses the photo management and software app to take photos and store patient information. Astanza believes all aesthetic practices can benefit from RxPhoto's numerous capabilities and has partnered with RxPhoto to give Astanza clients a special discount.
If you are an Astanza client and wish to sign up with RxPhoto, click here to connect with an Astanza representative and claim your RxPhoto discount.
Not an Astanza client? No worries! Click here, and we'll connect you with a RxPhoto representative to give you a free demo of the app.