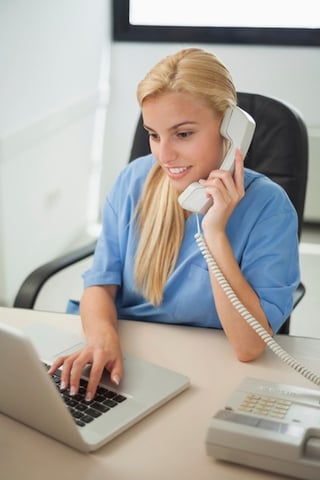 In the past, all medical appointments were made by calling a practice, talking to the receptionist, and scheduling a time for an appointment.
Now, the name of the game is efficiency and flexibility. Patients want to be able to easily book their appointments at any time of day, and practices want to spend less time answering phones.
Fortunately, there are a number of appointment booking software solutions that can both take stress away from offices and empower patients.
These software platforms are continually improving and adding new features, and many of them are affordable and user-friendly.
Laser clinics can have several benefits from investigating and investing in the right software solution for patient scheduling and management:
Easier to convert and schedule patients = more appointments booked and more revenue
No-hassle scheduling process = greater patient satisfaction
Minimized staff time managing bookings = more free time to handle other projects
Better follow-up with patients = reduced no-shows and increased patient retention
Astanza works with both established practices and start-ups. Usually we get questions about software from those looking to start a new tattoo removal clinic, but it's often the case that existing practices could benefit from the implementation of new software. We've assessed the big players in the aesthetic practice scheduling software world and put together this guide for you.
Please note: we try to keep all of our information up-to-date and correct, but some services and pricing listed here may change over time.
---
Features of Scheduling Software
Online Scheduling
If you want to keep your appointment "book" filled, you'll want to make it as easy as possible for your patients to schedule their visit. Embedding an online scheduler into your website allows patients to easily book their appointment without leaving your website or having to pick up the phone.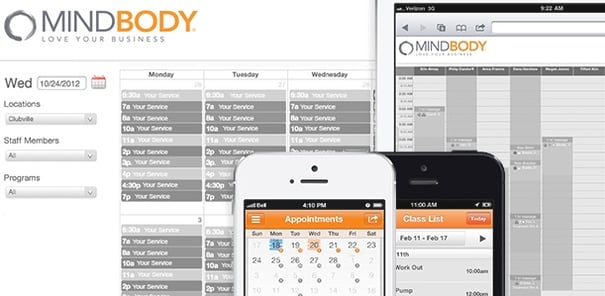 Not only does this functionality make it super convenient for your patients to book at any time of day, the reduced number of phone calls will also free up time for your office staff.
Make sure that you test out the online scheduling functionality on mobile devices, as the majority of web traffic is now on mobile instead of desktop. If the functionality is cumbersome on mobile, find a better solution that makes the appointment setting process headache-free for patients.
Calendar Syncing
What good would it be to have online scheduling if it didn't sync with your own calendar? All of the appointments could get accidentally double booked and create a scheduling nightmare.
Fortunately, virtually all appointment management software now features calendar syncing, so you and your staff can get up-to-the-minute info on your availability across all of your computers and mobile devices.
Appointment Reminders
One of the most frustrating and counterproductive issues faced by laser tattoo removal businesses is no-show appointments. It's a waste of staff time, it's lost revenue, and it interrupts the flow of the day.
Historically, the only way practices could protect against no-shows were to:
Call all patients the day before their appointment to remind them (not a great use of staff time)
Charge patients for no-shows (fair, but requires a credit card upfront, which might dissuade some from booking)
Fortunately, the major appointment scheduling software options offer a solution for reducing no-shows.
When a patient books online, they have to submit their email address and phone number. Then, leading up to their appointment, they will get a combination of text and email reminders about the time and date of their appointment. You can control the frequency and method of the reminders.
Even for the patients that book by calling you, if you record their phone number and email address when they book, they can get notifications as well.
Recurring Appointment Scheduling
In the laser tattoo removal field, it's common for patients to have laser appointments every 6 or 8 weeks, depending on their skin type, healing rate, and practitioner preferences. Patients repeatedly visit the business for treatments until the tattoo is fully removed, so all patients will have recurring visits.
If patients have a time and day of the week that will always work best with their schedule, recurring appointment scheduling may be an easy way to schedule follow-up appointments without having to sift through your calendar.
Customer Relationship Management (CRM)
A CRM is simply a database of your clients' information. It allows you to keep profiles on each of your clients, including their contact information, birthday, payment information, and appointment history.
By having all of your client contact info in a searchable database, you can easily look up their key contact info without having to hunt through paper charts, making it easier for you to manage the information that matters to you.
Point of Sale Payment Processing
Many of the software solutions allow you to take credit card information from your clients and store it securely for easy billing, taking deposits, and even recurring visits. Some of the programs coordinate with external POS systems, and others have their own payment processing built-in. This is a newer feature that really takes scheduling software to the "practice management" software level.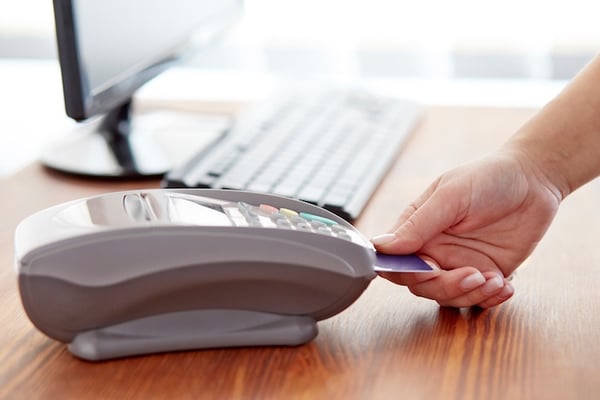 Gift Cards
We're all used to purchasing or receiving gift cards, but it's a little more complicated when you begin to offer them at your own business.
Because laser tattoo removal is an aesthetic procedure that improves patients' well being and self esteem, some patients may ask for tattoo removal as a holiday gift and some people may want to surprise their loved one with the gift of laser tattoo removal.
Some scheduling software programs allow you to easily create, sell, and track gift cards so that it's one less thing for you to worry about setting up.
Track Staff Hours
Different software platforms structure pricing differently, but it's common for them to be more expensive if you have more users (staff members) instead of just one user.
Part of the reason for this is that there's more data to track and calendars to sync, but also some of the software programs also give you functionality for managing your staff. You'll be able to have your employees log their hours within the software, giving you their hour totals for calculating payroll.
Marketing Automation
The goal for every tattoo removal clinic should be to have a high retention rate and have every patient complete their tattoo removal process with your business.
Delivering effective tattoo removal fading and giving patients a good experience at their appointment are important ways to encourage a high retention rate. However, there are always going to be some patients that fail to re-book even though they enjoyed your tattoo removal services.
Marketing automation allows you to extend your ongoing engagement with patients, boosting your retention and further improving the patient experience. It allows you to send follow up emails (even including aftercare instructions), "we miss you" emails for patients that haven't been in lately, and even promotions for patient birthdays.
You'll be able to have more communication with your clients – at times that are customized to their needs – to encourage them to keep coming back.
For more tips on marketing to laser tattoo removal patients, visit our blog post here.
Reporting
Want to find out your average revenue per client? Which of your clients spend the most at your practice? See forecasting for the next quarter? Understand your retention rate?
Analytics are like a trusted, knowledgeable adviser for any business owner. Paying attention to analytics is one of the best choices you can make and helps you make successful decisions for your business. It may be worth paying extra for software that features analytics and reporting, as not all have it.
Software Designed for Aesthetic Practices
MindBody, a cloud-based software originally designed for spas, is the biggest player in the scheduling software space. They've since branched out to be the go-to software for salons, massage therapists, yoga studios, and other "beauty, health, and wellness" businesses with scheduling needs.
We did a Google Trends report on some of the top scheduling software brands searched for over the past five years, and you can see that MindBody is a clear front runner in the field based on popularity: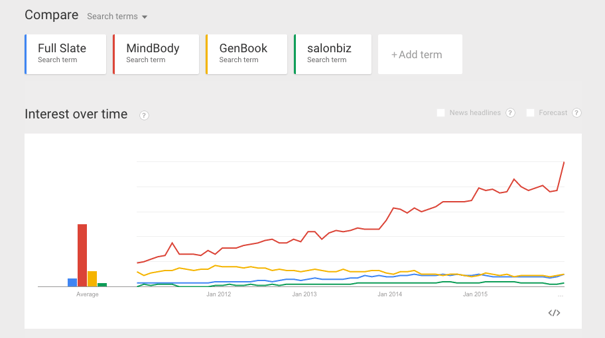 That said, we've also heard great feedback from clients that use Full Slate, which is owned by the well-known parent company Intuit. Both Full Slate and MindBody have similar features and price point, but there are a couple important distinctions.
Payment processing seems to be the biggest difference between the two. Both Full Slate and MindBody allow you to securely record client credit card info to take deposits or payments through their interface. The difference is that Full Slate doesn't handle the payment processing itself, but rather integrates with well-established processing platforms such as PayPal. MindBody, on the other hand, wants you to handle payment processing through them (they have competitive rates for this, and it's another source of revenue for them). If you want to handle everything with one company, MindBody may be the best choice for you. If you are already used to working with a different payment processing company or prefer their rates, Full Slate may give you better flexibility.
Here's a table comparing the features of the two:
| | | |
| --- | --- | --- |
| Software | MindBody | Full Slate |
| Appointment scheduling | ♦ | ♦ |
| Calendar syncing | ♦ | ♦ |
| Embeds in your website | ♦ | ♦ |
| Automatic appointment reminders (by text and email) | ♦ | ♦ |
| Automated marketing ("we miss you" emails, etc) | ♦ | ♦ |
| CRM for managing client contact info | ♦ | ♦ |
| Easily schedule recurring appointments | ♦ | ♦ |
| Manage scheduling for multiple locations | ♦ | ♦ |
| Double book appointments | ♦ | ♦ |
| Sell gift certificates & packages | ♦ | ♦ |
| Integrates with payment processors (PayPal, Stripe, etc) | | ♦ |
| Built-in POS payment processing | ♦ | |
| Easy client check in | ♦ | |
| Calculate payroll and track employee hours | ♦ | |
| Reporting & analytics | ♦ | |
| Automatically request client reviews | ♦ | ♦ |
| Syncs with QuickBooks | | ♦ |
| Create your own business app (additional fee) | ♦ | |
| Pricing for one user | $45/mo | $30/mo |
| Pricing for multiple users | $65+/mo | $50+/mo |
Both MindBody and Full Slate are HIPAA-capable, which means you need to contact them to let them know that you're planning on storing medical patient contact and billing information in their system. MindBody has a paragraph about conforming to HIPAA here. Neither of these software programs are designed for storing all patient medical records – please see the section below if you're looking for more robust software.
Other Software Solutions
If you're not happy with the offerings of Full Slate or MindBody, or simply wish to explore other options before you make a decision, here are a few alternatives:
Electronic Medical Records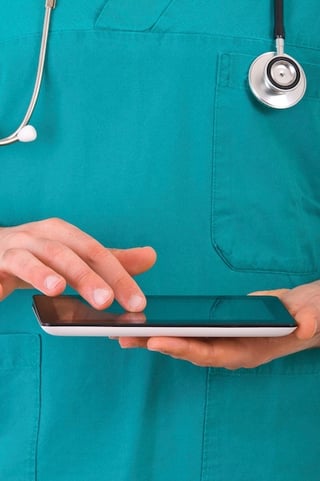 Having a solution for electronic scheduling is different than having a paperless office.
If you're truly looking to go paperless, you'll need an EMR (electronic medical record) solution that features scheduling software.
Laser tattoo removal treatments are considered "practice of medicine" in most states and regulated by the FDA, so the clients at your business are medical patients and have certain rights to privacy and protection of their medical records.
PHI (protected health information) is "any information about health status, provision of health care, or payment for health care."
As an aesthetic practice performing laser tattoo removal, your clinic will keep medical records about your patients, including details about the patient's medical history, progress photos, contraindications to laser treatment, past treatment settings, etc. These are all examples of PHI.
HIPAA (Health Insurance Portability and Accountability Act) has strict guidelines for compliance and protection of your patients' PHI. If you will be keeping PHI for your patients electronically, the software must be HIPAA-compliant. HIPAA-compliant software tends to be expensive, but it can have lots of features that help streamline your aesthetic practice.
Here are a few EMR systems that include scheduling software:
---
Finding the Right Choice for Your Clinic
Most of these software programs allow you to conduct a free trial or guided demo before committing. We highly recommend you take advantage of exploring the software before you commit to using it regularly, as it may be complex to switch services down the road and migrate your data between platforms.
Most of our clients use an affordable online scheduler with paper charts, but there's an increasing trend to go toward robust EMR platforms for paperless offices.
At Astanza, we provide practice consulting before and after the sale, and we can help you determine the right software solution for your tattoo removal practice based on your budget, functionality needs, and staff size.
Want to talk to an expert at Astanza? Reach out to us to get touch and discuss your questions.
Learn More
Check out these other resources from Astanza: