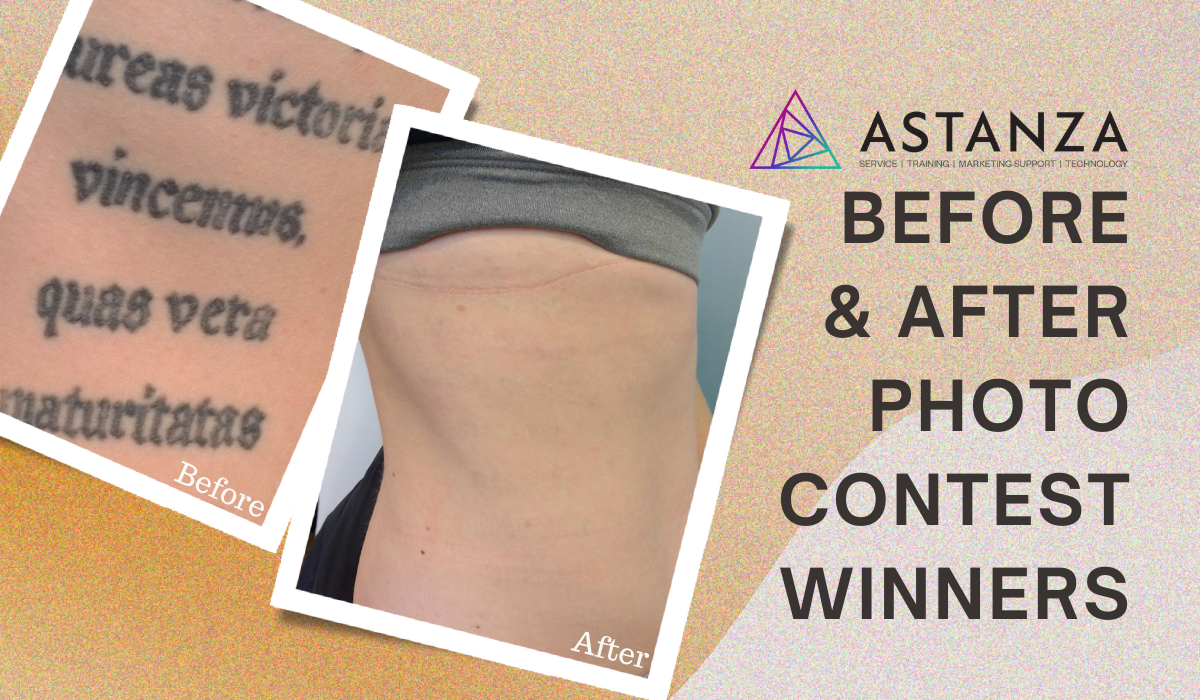 Astanza is super excited to share the winners of our biannual Before & After Photo Contest! This exclusive contest is limited to Astanza clients and rewards them for their impressive treatment results using Astanza laser technology.
The contest is held twice a year and contains three categories:
Best Completed Tattoo Removal B&A Photo
Best Lightening AND Cover-up B&A Photo
Best Aesthetic Treatment B&A Photo
Although we didn't receive many aesthetic treatment entries, we had numerous tattoo removal submissions and...drumroll, please... rewarded Evolve Tattoo Removal for the best-completed tattoo removal photo and 1 Point Tattoo for the best lightening and cover-up photo.
Keep reading to learn more about these clients and their amazing work!
Patients interested in receiving treatment from an Astanza provider near them can get connected here.
---
Best Completed Tattoo Removal:
Evolve Tattoo Removal
Evolve Tattoo Removal is located in San Diego, California, and uses the Astanza Trinity laser to deliver full-spectrum tattoo removal results for all skin types. The tattoo removal specialty practice offers custom treatment plans, advanced technology, and highly trained team members to deliver the best results throughout San Diego.
They work directly with local tattoo artists from shops around the world to prepare their clients' skin for successful cover-ups as well.
See their winning photo below: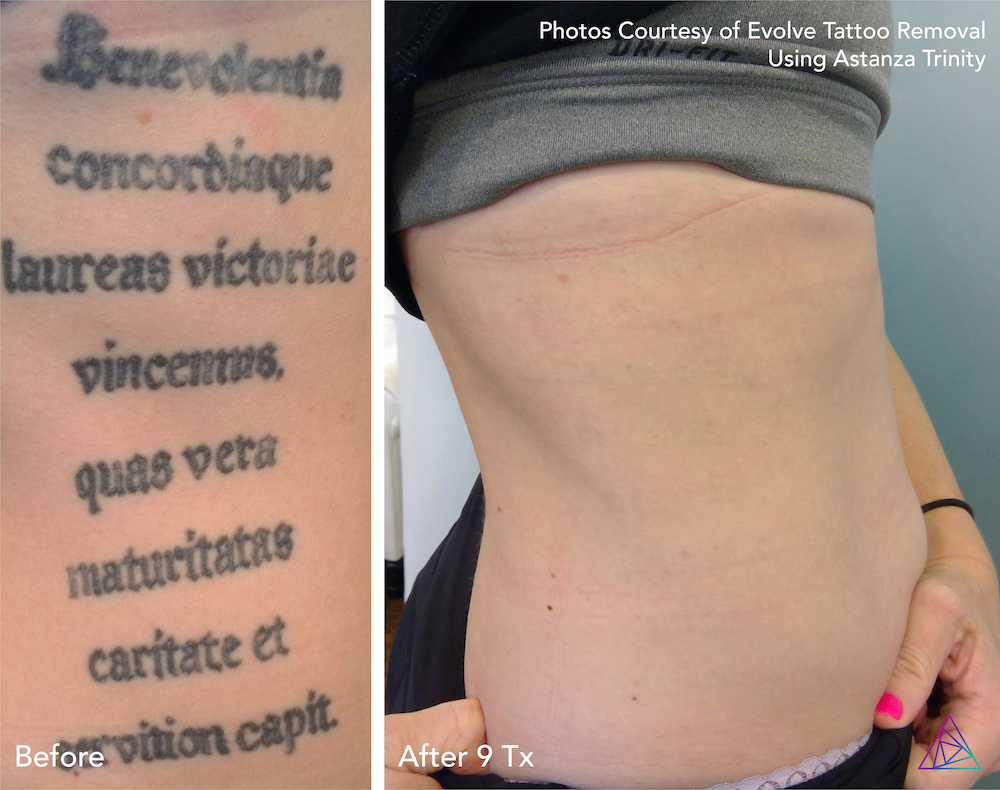 Connect with Evolve on social media by liking their Facebook Page and following their Instagram account.
Best Tattoo Removal Lightening and Cover-Up: 1 Point Tattoo
1 Point Tattoo is a leading tattoo shop in Kailua, Hawaii that uses the Astanza Duality laser to transform and modify unwanted tattoos. They are home to some of the island's most talented tattoo artists and are a repeat winner of our contest for this category thanks to their amazing tattoo lightening treatments and beautifully done cover-up artwork.
"Aloha! I am over-the-moon stoked for winning of the Best Fading & Cover-Up Tattoo Removal category!," said Kristine Le-Esposito, shop manager. "I have been putting clients and comfort above all else and I am happy that it is showing through our work. I could have never done it without the amazing lasers that Astanza has to offer."
See their winning photo below: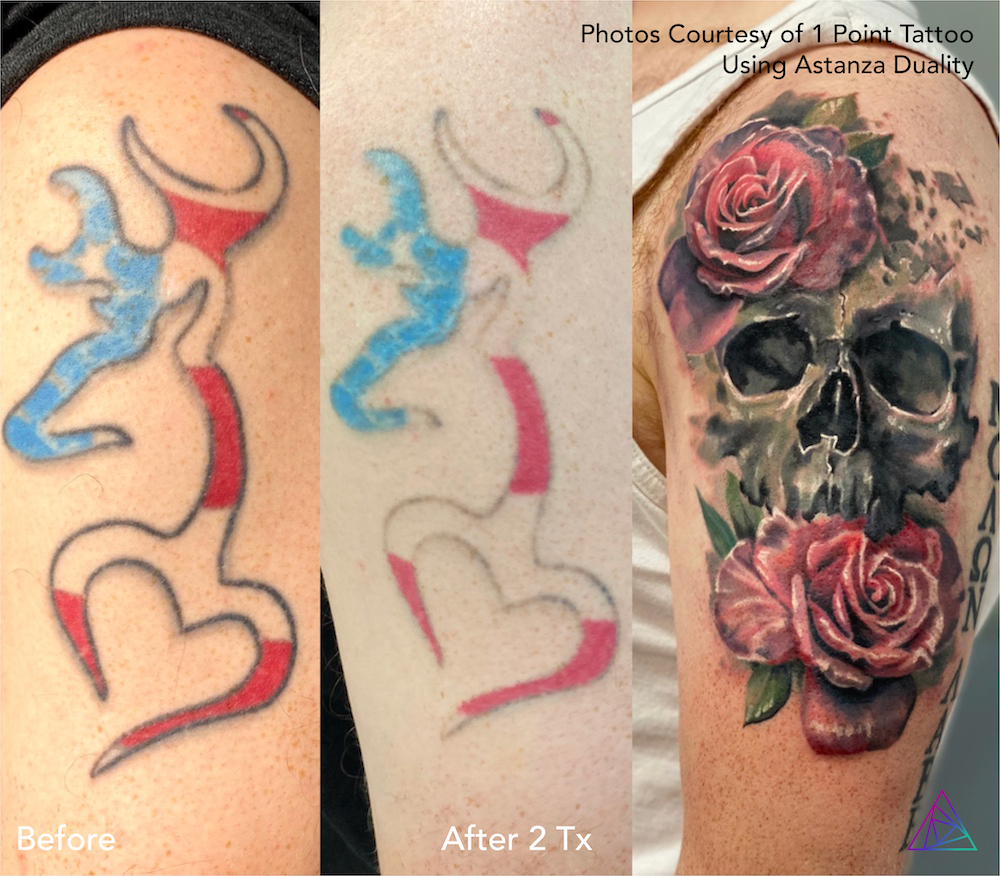 Connect with 1 Point Tattoo on social media by liking their Facebook Page and following their Instagram account.
---
Big thank you to all the clients who entered their photos for this term! The second term of the 2021 Before and After Photo Contest is currently active until December 31, 2021.
Visit the official contest page to learn more about the rules and regulations and enter your photos to win a grand prize! Remember, this contest is restricted to Astanza clients only.
Want to get great photos like the ones above? Click here to watch our pre-recorded webinar: Mastering the Art of Before & After Photos. This webinar shares tips and tricks on how to take photos that will impress potential prospects and existing clients. Learn how great before and after photos can take your aesthetic business to the next level!