That's a wrap, Florida! We had such a great time sharing Astanza's latest technology and aesthetic industry trends, hearing from laser hair removal expert, Judy Adams, CME, and hosting New Look Laser College. Here are the highlights!

Astanza traveled to Orlando and Fort Lauderdale last week to host TWO nights of special event, "Modern Advancements in Aesthetic Lasers." Attendees enjoyed cocktail hour and dinner presentation covering the latest aesthetic technology and trends to look for in 2019, remarks from keynote speaker, Judy Adams, and live laser treatments!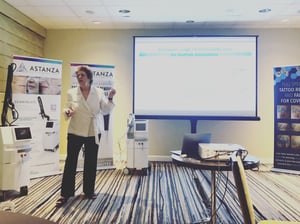 "It was so great getting a variety of people in the room with Judy," said Beth Gualario, Florida Regional Sales Manager. "Her level of experience and expertise she shared truly allowed for in-depth conversation on the best practices and devices recommended for laser hair removal."

Judy Adams, CME has earned her "expert" status through several years of serving as an international hair removal lecturer and having twice served as the president of the Electrolysis Society of Florida (ESF).

She's trained hundreds of physicians, PAs, advanced registered nurse practitioners and electrologists around the world to safely perform laser hair removal. Her practice, Laser Blazers, is located in Palatka, Florida.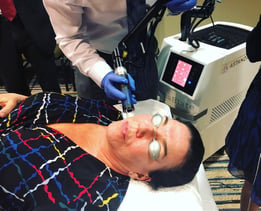 The featured laser technology for both evenings included the Astanza DermaBlate, a comprehensive solution for light to deep skin resurfacing, and the Astanza ReSmooth, the faster and more effective solution for lasting laser hair removal with an industry-leading spot size (9.1 cm2).

During the events demo patients received treatments and left feeling and looking great! (Click here to view an exclusive webinar on the DermaBlate for a more in-depth look.)

New Look Laser College
F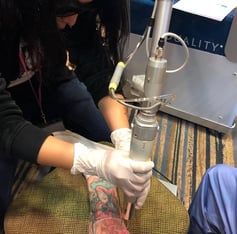 ollowing Modern Advancements in Aesthetic Lasers, Astanza set up shop in Fort Lauderdale to teach laser tattoo removal to a group of New Look Laser College students over the weekend.

Students learned laser physics, protocol and safety regulations and also gained insights for growing a successful tattoo removal business and hands-on laser experience with real tattoo removal patients. View upcoming New Look Laser College courses here.)


After this crazy week, we're so excited to keep bringing Astanza clients and followers more content, special events and training opportunities! We'd like to thank Judy Adams for generously offering her time and expertise to make these events a worthy experience for attendees (We love you, Judy!). Now, on to the next big thing!

For questions regarding the Florida events, devices, or if you are interested in investing in aesthetic laser technology in Florida, contact Beth!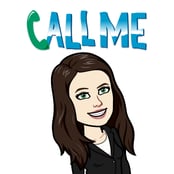 Beth Gualario
Florida Regional Sales Manager
bgualario@astanzalaser.com