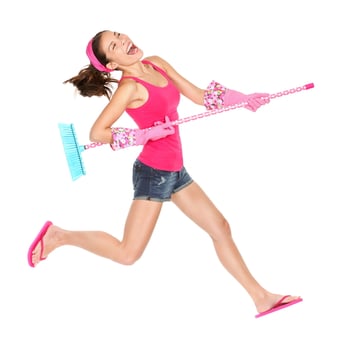 Spring has finally arrived. After a long and endless winter season, one of the best things to do for your medspa is to spring clean in various ways. As part of the leadership or management team at any aesthetic practice, it's essential to think of spring cleaning as a vital improvement to your practice during this time.
Of course, you should include actual physical cleaning as part of this spring plan. It's imperative during these COVID-19 times so that your office is as germ and bacteria-free as possible while performing services like laser hair removal or laser tattoo removal. Aside from a good spring cleaning, here are some other tips to help your aesthetic practice be its best this spring season.

Review Your Client List and Say "Hello"
You may have an extensive list of clients and equally as long of a list of those who no longer come to your medspa or clinic. Springtime is a great time to go through your roster of clients and reach out to those you haven't heard from or seen in a while to see how they are doing and see if they need to schedule a service. Don't think of it as a cold call or selling them something. Genuinely call and ask them how they are doing and establish some connection before asking them if they need any of your services. Many people discontinued aesthetic treatments during quarantine, such as laser hair removal or tattoo removal, and need to get back on their treatment schedule. Now is a great time to give them a call and get them to restart their treatments with you.
If you find that the contact information for some of those clients isn't current anymore, you can permanently remove them from your existing client list and focus on the clients that are regulars at your medspa. Removing outdated or old client information is an ideal part of spring cleaning for your aesthetic practice. A note of caution: If you are physically removing files or doing anything with patient records, we suggest that you follow HIPAA guidelines and keep your client's information safe and protected. Just because someone isn't an active client doesn't mean you can throw their patient file in the trash.
Add New Aesthetic Treatments or Services to Your Practice
If your medspa or aesthetic practice hasn't added any additional services recently, now may be the time. With advancements in technology, new regulations, and increased demand for specific services and treatments, now is the perfect time to expand your services and meet the needs of both existing clients and potential prospects. Adding a new service similar to what you already offer (such as adding laser tattoo removal to a medspa) will encourage brand loyalty amongst current clients and create avenues for attracting new clients to your practice.
Suppose you aren't offering services like laser hair removal and laser tattoo removal, and think it's time to add these to your roster of services. In that case, Astanza has the most advanced line of aesthetic lasers in the world and would love to partner with you on expanding your aesthetic business. Or, if you already offer these services, it might be time to look into Astanza to update your equipment. We offer the most advanced tattoo removal, hair removal, and skin resurfacing lasers on the market.
Laser Tattoo Removal Training
Another excellent idea for springtime is creating opportunities to grow your staff's experience. Having a well-trained and educated clinical team is always great for any business.
Many medspas are starting to expand their services to include laser tattoo removal because laser tattoo removal is a service that's booming in popularity, and many states are changing their regulations to make it even more accessible to practitioners. New Look Laser College, the only school that focuses exclusively on laser tattoo removal training, can provide your staff with the expert training and certifications they need when adding tattoo removal to your practice.
Laser tattoo removal training at New Look Laser College (NLLC) is a two-day course that focuses exclusively on how to perform this in-office cash procedure. New Look Laser College tattoo removal training occurs at our main Dallas campus and additional locations across the United States, like Las Vegas, New York, Miami, and Orlando. To register, check out the full schedule on the offical New Look Laser College website.

Once your employees go through this comprehensive training, they will be fully ready to use the laser tattoo removal equipment, like the Astanza Trinity laser, in top-of-the-line technology. Furthermore, it gives your staff members a chance to grow their skills and resume–an opportunity that most laser practitioners and estheticians would love.

Schedule Maintenance on Your Laser Equipment
Spring is also the perfect time to schedule routine maintenance on all of your laser equipment and technology. To ensure your practice can perform superior treatments, your laser should be consistently serviced by a trained professional. That way, you'll feel confident knowing that each of your lasers is working at its optimal efficacy. Having the equipment routinely serviced will keep it running in tip-top shape all year long.
Astanza has received multiple awards for our expert team of Biomedical Service engineers. Read more about our award-winning service department and the support they provide.
Deep Cleaning of Surfaces and Equipment
Now is the time for actual spring cleaning as well. Your regular cleaning crew or specialty medical cleaning company can do a deep clean of all surfaces and equipment. This deep cleaning goes above and beyond regular day-to-day cleaning and includes sanitizing and sterilizing with special chemicals to ensure that your offices free from any virus dangers. Doing a deep cleaning should follow Environmental Protection Agency (EPA) guidance and use approved disinfectants recommended by the Center for Disease Control (CDC). It's a combination of deep cleaning and disinfecting that will make your medspa a safer place to be for your employees and clients.
Additional Marketing or Leadership Training
Don't forget to use this time to brush up on new social media marketing trends or to polish your marketing calendar to make sure you are doing what is required to get new appointments and stay organized. Astanza will be hosting a webinar with Precision Laser that focuses on how med spas and aesthetic practices can improve their social media presence. Social Media Marketing for Med Spas and Aesthetics Professionals will take place live on Tuesday, May 18th at 1:00 PM CDT. Even if you can't make the live version, we will email an on-demand recording to all registrants.
If you have any questions about how Astanza and New Look Laser College can improve your medspa this season during your "spring cleaning," give us a call today. We're happy to discuss all your options in new laser equipment and training so that your practice is the best it can be for all of your clients.