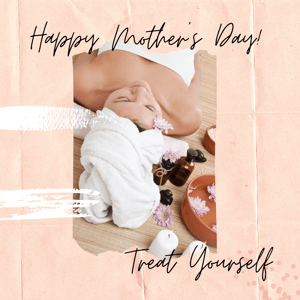 Being a mom is one of the most challenging jobs in the world. Whether you're a brand new mom struggling to get a good night's sleep or even a quick nap, or you're busy juggling getting the kids ready for school on top of house chores and your own work life. It's safe to say that motherhood is exhausting. That's why this Mother's Day, we're encouraging all moms to treat themselves.
This May 9th, after you sleep in and are hopefully served breakfast in bed from the kids and a bouquet of flowers from the husband, set aside some "me time" for yourself and your skin. Call your local medspa and book an appointment for one of the following laser treatments to get back your glow and renew your energy.
Laser Hair Removal
Laser hair removal is one of the most popular aesthetic laser treatments for busy moms. Everyone has unwanted hair, but not everyone has the time to constantly shave or wax pesky hairs, only to have them grow back in a few days. Toss your razor and say goodbye to temporary results and painful waxing appointments. Laser hair removal makes shaving, plucking, and waxing a chore of the past by targeting hair follicles and their roots, thus damaging future hair growth.
Laser hair removal with the Asclepion MeDioStar diode laser, backed by Astanza, produces exceptionally fast, safe, and efficient results for all hair colors and skin types, even newly tanned skin. The MeDioStar also boasts the most prominent spot size on the market at 10 cm2, allowing medspas to treat large areas like the full legs in as little as 4 minutes, making this the perfect treatment for moms on the go.
Laser Tattoo Removal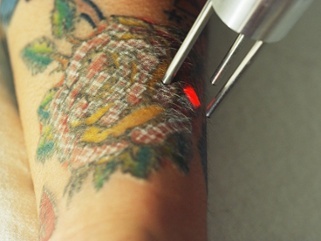 Moms are people too, and they're prone to youthful indiscretions that stick with them for a lifetime, such as a tattoo. And while not all tattoos are regretful, what seemed like a good idea at the time can lose its effect or meaning over some years or sometimes become downright embarrassing.
Treat yourself this Mother's Day with a laser tattoo removal package so you can finally put that unwanted tattoo, or the "sticker," as your toddler calls them, behind you. Tattoo removal lasers like the Astanza Duality and Trinity specifically target the trapped ink particles in your skin and nothing else. The surrounding skin tissue is unaffected, making laser tattoo removal the safest and only noninvasive method that can effectively remove unwanted ink without causing scarring. You'll finally be tattoo-free and have nothing remaining except the memories of getting your tattoo.
Age Spot Removal
Pigmented lesions, more commonly referred to as age spots or brown spots, are annoying blemishes that all moms eventually suffer from. While pigmented lesions result from aging, they're also more likely to appear on moms who spend endless hours outside in the sun at swim meets, soccer tournaments, playing with the kids at the beach, or tending to the yard.

This Mother's Day, revitalize your skin and rewind signs of aging and sun exposure by treating yourself to a pigmented lesion treatment. This procedure works similarly to tattoo removal and targets the excess melanin in your skin without damaging any surrounding skin tissue. Diode and Q-switch lasers like the MeDioStar, Duality, and Trinity lasers are perfect for removing brown spots, cafe-au-lait spots, solar lentigos, cherry angiomas, and more. Just be sure to visit your dermatologist or physician to make sure all pigmented lesions are benign before proceeding with treatment.
Skin Resurfacing
Want an even tighter, more youthful complexion that will boost your confidence? Then skin resurfacing is the perfect treatment for you! Over time, collagen production decreases with age, inviting more wrinkles, larger pores, and other unwanted skin blemishes to form.
Laser skin resurfacing is a procedure that stimulates collagen production and improves the skin's appearance by producing controlled damage to the skin. Many people seek skin resurfacing through CO2 lasers, but more aesthetic consumers are making the switch to Erbium:YAG lasers like the Astanza DermaBlate. Skin resurfacing patients have experienced safer treatment, fewer unwanted side effects, and significantly shorter healing times with the DermaBlate laser versus CO2 lasers. And we all know time is of the essence for busy moms.

There are two types of laser skin resurfacing treatments that you can invest in, ablative vs. non-ablative. Non-ablative skin resurfacing treatments, like the Celebrity PeelTM, are less invasive treatments that heat the lower layer of the skin without causing damage. This treatment stimulates collagen to target fine lines and achieve a quick glow-up before Mother's Day dinner.
Ablative skin resurfacing uses laser light to vaporize or heat the superficial layers of skin, which leads to the destruction of skin tissue and promotes the natural regeneration of collagen and healthy skin cells. As a result, you will experience tangibly smoother and softer skin, improvements in skin texture and appearance, elasticity, and removal of unwanted skin blemishes and signs of aging, like deep wrinkles.
---
While every day is a day to celebrate all the hard-working moms in our lives, Mother's Day is a chance to give yourself and your skin a much-needed boost in vitality. Contact us today to get in touch with an Astanza laser provider near you! Happy Mother's Day!