Don't let it sneak up on you – Father's Day is almost here! Now is the time to honor all the hard work that your old man does for the entire family. Over the years, you have probably bought him a slew of traditional presents. That might be a fancy tie, some sports memorabilia, or maybe even a beer-of-the-month gift package from his favorite craft brewing company. All of those are good choices, but this year it's time to think outside the box – more specifically – to dad's hairy back!
How about some aesthetic treatments in the form of laser hair removal? Let's dive into how getting dad hair removal services, or a couple of other laser aesthetic treatments, will be the perfect gifts this year.
---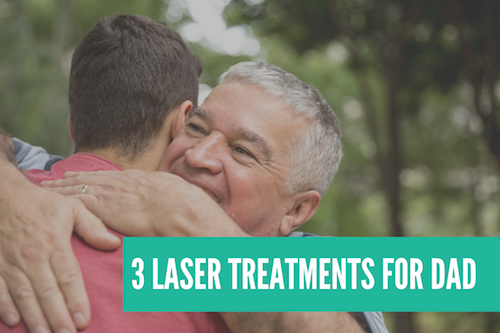 Bye-Bye Back Hair
We're willing to bet on this Father's Day, the big man in your life would appreciate a little laser hair removal for his back and chest. Mom would probably thank you for this gift, too! Think of how confident your dad would be at the beach or pool area, rocking his dad bod, minus the pesky back hair. Treating him to this laser hair removal service is probably something he wouldn't think of doing for himself, but would absolutely enjoy.
The light-based laser aesthetic treatments give long-lasting results by disabling the growth directly in the hair follicle. Your dad will have a smooth, hair-free back for the first time in his adult life. It will be amazing for him to say, "Bye-bye, back hair!"
See You Later, Tattoos
Is there a tattoo your dad got years ago that he's not particularly fond of anymore? Or maybe he's got more than one? This Father's Day, give him the gift of laser tattoo removal. With the technology available from Astanza Laser, it's never been easier to get rid of unwanted ink. It's a fast and safe way to remove that tattoo of Bugs Bunny he probably got on a dare at his best friend's bachelor party in Vegas years ago. You know that one night, he's never going to fully tell you about...what dad does in Vegas, stays in Vegas.
Visit our website to find the closest laser tattoo removal provider near you.
Say Hello to Smooth Skin
If your dad has some rough and uneven skin from old acne scars or marks, the perfect gift for him could be skin resurfacing treatments! Dads care about taking care of their aging skin, too. This treatment can turn back the hands of time by getting rid of dark spots, fine lines, and other skin imperfections. This Father's Day, gift your dad the luxury of looking younger.
You can purchase all of these aesthetic laser treatments from local medspas and providers in your area. Make sure the clinics you are considering use laser technology from Astanza Laser, the best in laser hair removal, laser tattoo removal, and skin resurfacing in the world.
Check out our website to find the best providers for medspas today that use our lasers so that you can buy dad a truly unique gift this year.