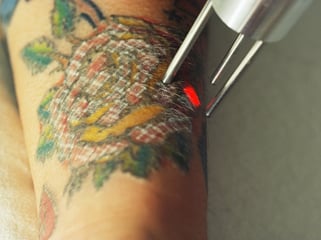 Despite what many people believe, tattoo application and tattoo removal are not at war. In fact, the two procedures actually go hand in hand and complement each other. Some of the most outspoken proponents and users of laser tattoo removal are tattoo artists and tattoo shops that want to either fade or clear an old tattoo before applying new ink. Understandably, tattoo artists want a clean canvas for their artwork instead of having to start with the remnants of someone else's work as the foundation (especially if the work was done poorly). Below, we lay out the top three reasons why tattoo artists favor laser tattoo removal.
1. Clean Canvas
Cover-up tattoos are a popular solution for dealing with unwanted ink. However, many tattoo artists find it difficult to completely conceal a existing tattoo when it contains a lot of dark ink. Laser tattoo removal allows a tattoo artist to paint over a clean canvas rather than figuring out a way to maneuver around and existing tattoo. Wanting to start with a clean canvas is not just a matter of preference or even pride. It's simply easier to remove a tattoo and start over with new artwork than to cover up an existing one. Even fading down a tattoo with just a few treatments of laser tattoo removal can give a tattoo artist more flexibility and creativity with the new design. Think about it like this, a professional painter wouldn't paint over a used canvas when they could start with a clean slate and create a true masterpiece.
2. Amateur Tattoos
Let's face it... not all tattoos are done well. Prison tattoos, home tattoos, and other amateur tattoos are the kind of tattoos that professional tattoo artists want to remove. Not to mention, amateur tattoos are usually the type of tattoos that most people later come to regret. Professional tattoo artists can utilize laser tattoo removal to remove unwanted amateur tattoos and make room for artwork that their clients can be proud of. Furthermore, most amateur tattoos are made using different substances that are often easier and quicker to remove than regular ink.

3. Profiting with Tattoo Removal
The money! As we have seen, removing tattoos or fading tattoos to the point where they can be successfully covered up doesn't just make sense from an artistic perspective but also from a dollars perspective. If you can help someone get the artwork they want on their body by helping them remove the ink they don't want, all while making a significant amount of money doing it, everyone wins. Laser tattoo removal creates more opportunities for tattoo shops to increase their profits. The average tattoo removal package sells for $1,200 for a small to medium tattoo and usually consists of 4 to 6 treatments priced at $200 per session.
---
Tattoo removal is more than it seems. Once you understand that laser tattoo removal and tattoo application aren't mutually exclusive, you'll find that laser tattoo removal can be the basis for a fairly lucrative business and serve as a wonderful way to supplement a tattoo shop owner's income.
If you wish to speak with an Astanza representative about adding laser tattoo removal to your tattoo studio, reach out by calling (800) 364-9010 or
contacting us by clicking here.

Check out these other resources from Astanza: