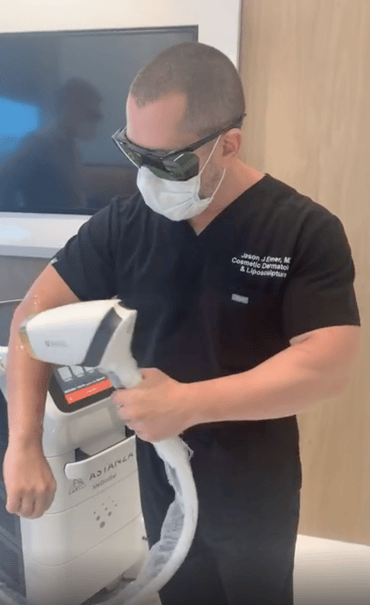 If you or anyone you know is interested in the aesthetic industry, then you've definitely come across the name Dr. Jason Emer. Not only is he a board-certified dermatologist and one of the most renowned cosmetic dermatologic surgeons in the world, Dr. Emer runs one of the most exclusive aesthetic practices in West Hollywood and has worked on some of Beverly Hills most notorious bodies.
Dr. Emer has been featured in various news articles and even TV shows including The Doctors, Modern Aesthetics, Bazaar, Cosmopolitan, Elle, Men's Fitness, and more. On social media, he's notorious for sharing honest reviews of skincare products, impressive before and after results, behind-the-scenes surgery videos, live filler treatments, as well as inside looks at the amazing laser technology he uses.
Recently, Dr. Emer posted an Instagram video of him performing laser hair removal on himself with his newest laser addition, the Astanza MeDioStar by Asclepion. Didn't catch the video on your feed? Not to worry! We've got a direct link to the post below.