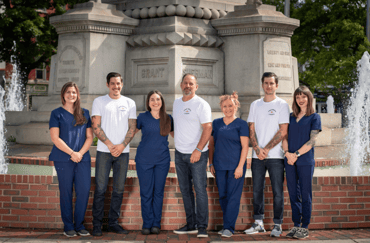 Astanza is always proud to feature our clients, their successes, and their growth to showcase how they use Astanza technology to impact lives in their communities. One laser practice that has become the preferred choice for laser aesthetics in the Easton, PA region is Precision Laser.
Precision Laser is a family-owned and operated business that the Aversa family founded in May 2019. What began as a laser tattoo removal specialty business using the Astanza Trinity laser has since expanded into a full-service aesthetic laser business thanks to the Asclepion MeDioStar diode laser, backed by Astanza.
We recently interviewed Jessica Talley, Precision Laser's Office Manager, to hear more about Tattoo Removal Ink's beginning days, struggles, lessons learned, and successes. Keep reading to learn more about this growing aesthetic laser business.