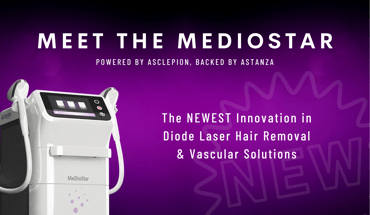 The Future of Laser Hair Removal is Here

The newest innovation in laser hair removal, the MeDioStar®, is the ultimate diode laser for safe and effective hair removal on all skin types! We're so excited to welcome this device to our product line as it continues to revolutionize hair removal thanks to its improved user experience, intuitive design, and advancements in technology. The MeDioStar® was designed by Asclepion Laser Technologies (based in Germany) and is now available in the US through Astanza Laser.

To welcome the MeDioStar® to the Astanza product line, we are offering special introductory pricing for a limited time to eligible individuals, including the choice of 0% financing for 24 months or a free vascular handpiece ($20K value). For purchasing information and full terms and conditions on our introductory offers, please contact your Astanza Representative or request your virtual demo!
Read below why the MeDioStar® is the preferred choice among leading dermatologists, plastic surgeons, laser clinics, and medical spas. Click here to view the MeDioStar product page.