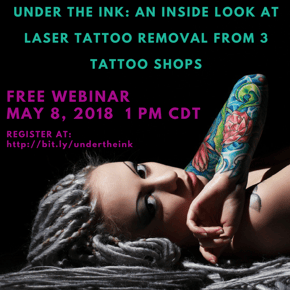 Laser tattoo removal and tattoo shops seem to contradict each other as concepts, but tattoo shop owners have found ways to use laser tattoo removal to create better artwork, increase their customers' satisfaction, and to increase their profits. By adding laser tattoo removal to their businesses, tattoo shops have dramatically increased their bottom line. Three of Astanza's tattoo shop clients will, in our upcoming webinar, "Under the Ink: An Inside Look at Laser Tattoo Removal with 3 Tattoo Shops," offer an exclusive look into the profitable procedure and how it relates to their existing businesses. They'll discuss how to increase tattoo shop profitability, market laser tattoo removal, and attract customers with the procedure.
How will the webinar help me?
While we could talk all day about Astanza's experience with the practice of laser tattoo removal and how it's helped expand tattoo shops all across the country, we thought it'd be even more convincing for you to hear testimonials and advice from the tattoo shops yourselves! The tattoo shops speaking during the webinar are clients we've worked with extensively, ones that have found success in using Astanza technology to give clients the look that they want. The speakers are extremely knowledgeable about tattooing and laser tattoo removal and are willing to pay it forward; you will leave the webinar with valuable takeaways from industry experts.

Featured Tattoo Shops include:

Blacklist Ink
Tattoo Shop 2 -Special Announcement at a later date.
Tattoo Shop 3 - Special Announcement at a later date.

What topics will the webinar cover?
Topics discussed include, but are not limited to:
Fading Tattoos with Laser Tattoo Removal (LTR) before cover-ups

Pricing Methods

How LTR is used to create better artwork

What equipment is required
How do I participate?
Astanza will be hosting the webinar on May 8th, at 1 pm CDT. Register by clicking here or on the graphic below to reserve your spot! We recommend the live experience for the interactive Q&A portion, but if something comes up, we'll send you a recording of the session.