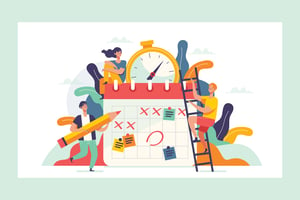 A marketing calendar is a necessary tool for any business, whether new or small, established or big. Calendars create structure and stability during busy seasons, keep team members accountable for individual tasks, and help plan out content and future marketing ideas for your practice's success.
In summary, a marketing calendar is a crucial instrument that brings marketing ideas to life. Our latest eBook, 10 Steps to Market Your Aesthetic Practice in 2020, discusses the importance of having a marketing calendar, as well as other insights to successfully market your aesthetic practice in the coming year.
In this article, we'll give you a sneak peek into what a marketing calendar looks like for an aesthetic practice and how you can use it to grow your business.
---
Marketing involves a lot of work: hosting events, attracting new leads, keeping existing customers happy, sending out emails, and posting on social media; the list goes on and on. As an aesthetic business owner, there are hundreds of things to tackle within a year, let alone one month or even one day. With so many moving pieces, it can be overwhelming trying to stay organized and keep track of all your marketing efforts. An annual marketing calendar is a tangible solution that takes a marketing strategy from an idea and to an actual opportunity.
Even more so, a marketing calendar can help keep you and all your staff members accountable for specific tasks and deadlines and also act as a reliable document of past responsibilities to look back on. This can be very helpful when implementing consistency, overseeing day-to-day goals, or reviewing past efforts from previous years to determine what worked and what didn't.
A marketing calendar is especially helpful when planning events. For example, if you're a laser tattoo removal business, you might consider offering a special deal or hosting an event to celebrate National Tattoo Removal Day. Knowing that day falls on August 14, you might start promoting content, emails, and appointment reminders at least six weeks in advance. A marketing calendar outlines all the deadlines, big picture items, and small details leading up to an event that you and your team members can rely on.
Implementing a marketing calendar is the next step to making your 2020 marketing efforts more effective. By mapping out all of your marketing campaigns, goals, and strategies, you'll be able to visualize your progress and have a higher success rate of achieving those goals within a certain timeframe.
---
If you've kept all your planning trapped in your head, it's time to organize your thoughts onto an actionable marketing calendar. To learn more about how to set up a successful marketing calendar and other aesthetic marketing trends, register for our upcoming webinar, "2020 Aesthetics Trends (and How They Affect Your Business)" on January 30, 2020, at 1:00 PM CST!
Our marketing experts will be highlighting the best practices you can implement to keep up with the ever-changing aesthetic trends.

This webinar is free to view and open to the public / first 100 registrants.
Click here to sign up today!