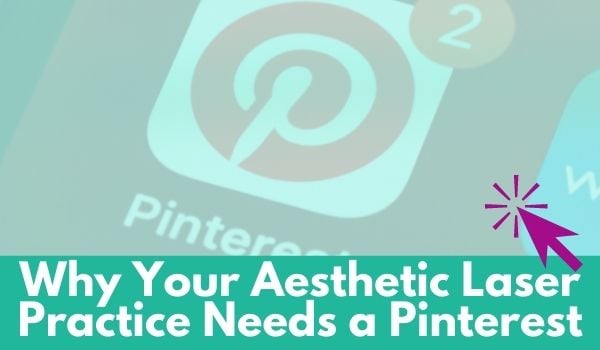 You're probably thinking, "Pinterest...really?" And the answer is: Yes! Really.
When you're thinking about marketing your MedSpa or aesthetic laser practice, your first step should be creating a good website. And that is definitely the most important move to getting your brand and the services you offer out there.
Once you've got a sound website created, it's time to think bigger. What other avenues could you use that are simple yet effective to spread the word about your business?
---
How Pinterest Works
As an aesthetic practice, you want to share quality images and videos of the services you provide. You also want to consider how you can share educational information about the procedures you offer. This is where sharing content from your website to Pinterest will go a long way. Did you know, there are 459 million monthly active users on Pinterest worldwide? That number may surprise you.
Pinterest functions as a search engine, rather than typical social media platforms.
It prioritizes content it predicts the user wants to see, rather than in a chronological timeline like on Instagram and Facebook. In this way, Pinterest functions very similarly to Google. People typically go to Pinterest to peruse aesthetically pleasing images, videos, and educational posts. As an aesthetic laser business or MedSpa, those are all things you directly have access to (and should) share!
Tips to Successfully Launching your Pinterest
Be sure to outline a quick strategy for your Pinterest efforts. The main goal is to drive more traffic to your website and in the end – bring you more customers. So, where to begin?
First things first, you'll want to create a business account. This allows you access to view insights and analytics on how your pins are performing. It also shows you who and how many times your content has been shared.
Next, upload your logo and a nice cover photo that exemplifies your business. This allows for quick brand recognition from users. You'll want to claim your website after that: There are self-guided instructions within Pinterest that will help you complete this step. Claiming your website allows for Pinterest to give credit to you and your business any time someone links to a page from your website.
Create at least a few boards you'll be uploading to. Our top suggestions would be: Before and after photos, patient progress spotlights, and videos of your staff conducting procedures so people know what to expect when receiving treatments.
Keep Track of Your Progress
Don't forget to monitor your efforts! Pinterest has a fairly intuitive dashboard to show you how your page and pins are performing. We recommend checking this monthly, or even more often than that if you're really serious about growth, to ensure what you're doing is working. It also will give you a quick snapshot of your top performing posts – essentially, it tells you what's working best and you can capitalize on those efforts.
Whether you're just starting your aesthetic laser business or are a well-established company, Pinterest will not only grow your brand awareness, but also drive traffic to your website and in turn bring you more customers.
Really – it's a win, win.