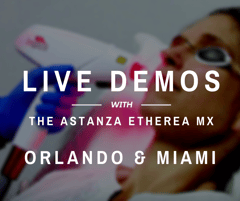 Are you ready, Florida? Join Astanza for two evenings of live laser demonstrations, dinner, and discussion over the EthereaMX, in Orlando and Miami!

Those who attend will learn how practitioners, med spas, and physicians around the world have grown their practices and expanded patient reach by providing over 70 FDA-cleared treatments with one device. Industry expert and Global Trainer/Educator for Vydence Medical, Lutecia Costa, will be demonstrating live laser aesthetic treatments with the EthereaMX for med spa owners, physicians, plastic surgeons, and more!

Orlando - WEDNESDAY, July. 17, 2019
Miami - THURSDAY, July. 18, 2019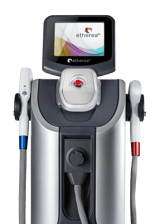 During these exclusive events, individuals will gain insight on how the EthereaMX is transforming the aesthetic laser industry by providing treatments for the most popular aesthetic laser procedures with just one platform device.

These events are exclusive for med spa owners, physicians, and plastic surgeons. There will be a complimentary cocktail hour and dinner presentation with clinical discussion and live demonstrations featuring the latest in aesthetic laser technology from Astanza Laser.

"I'm so excited to welcome Lutecia Costa to both of Astanza's special events!" Said Beth Gualario, Florida Regional Sales Manager. "Several of my colleagues are excited to finally see live demonstrations with the EthereaMX and dive deeper into its technological advancements that are shaking up the aesthetic industry."



EVENT DETAILS
Spaces are limited for these events, and both are filling up quickly. We encourage early registration to guarantee your spot, and bringing a colleague or business partner is welcomed. Both events are free to attend. If you have any questions about either Orlando or Miami's events, reach out to Beth Gualario for more information.

QUESTIONS? Ask Beth:
Beth Gualario, Regional Sales Manager
(813) 732-2583 | bgualario@astanzalaser.com


---