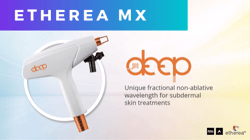 What's one of the most popular aesthetic laser procedures to date? Skin resurfacing!

Using the ProDeep® handpiece with the Etherea MX platform system, practitioners are now able to effectively treat scars, erase red and white stretch marks, reduce the appearance of wrinkles, and tighten skin safely, effectively, and in fewer treatments.
The ProDeep® handpiece is the first aesthetic laser to produce the Nd:YAP 1340 nm wavelength. This unique wavelength is revolutionizing the aesthetic market by offering a non-ablative fractional treatment option that delivers impressive skin resurfacing results with just a few treatment sessions.

Exceeding Expectations with Better, Faster Results

"The Etherea itself is such a vital and versatile platform for any laser clinic, but we're especially excited about the ProDeep® handpiece," said Brent Nixon, VP of Sales.

"We're already seeing how the ProDeep® is helping physicians keep up with the rising demand for stretch mark and wrinkle treatments. They're able to effectively give patients the results they want in fewer treatments without breaking the skin. It's pretty powerful when a patient can walk in and out of a laser clinic on their lunch break and leave without worrying about bandaging the treated area. Little to no downtime between treatments with the ProDeep® handpiece is making skin resurfacing more accessible to patients."

Powered by Cutting Edge Technology

The ProDeep® handpiece penetrates the skin 9 times deeper compared to other non-ablative lasers, resulting in less downtime and greater clinical efficacy. In addition, the ProDeep® provides unique treatment options including combining higher intradermal heat in subdermal tissue, pulse durations ranging from 3 to 20 ms, micro-fractional lenses, and collimated beams.

Practitioners can provide safer and more effective treatments thanks to the ProDeep® handpiece's high-quality fractional optic system, square spot formats, smaller microfractional beams, and greater spacing between spots. ProDeep® technology is used and approved widely by renowned doctors with numerous success stories, proving its efficacy.
Additional Resources

The ProDeep® handpiece is just one of seven handpieces that can be used interchangeably with the Etherea MX platform device. With the help of the ProDeep® handpiece, the Etherea MX delivers 70+ FDA-cleared aesthetic treatments. To learn how the ProDeep® handpiece and Etherea MX can grow your aesthetic laser clinic, view the pre-recorded webinar, Astanza Etherea MX: One Device, Seven Handpieces, 70+ Treatments. This webinar was previously recorded and is free to view.

More resources:
- Download the ProDeep® handpiece brochure
- Download the Etherea MX brochure
- View the pre-recorded Etherea MX webinar