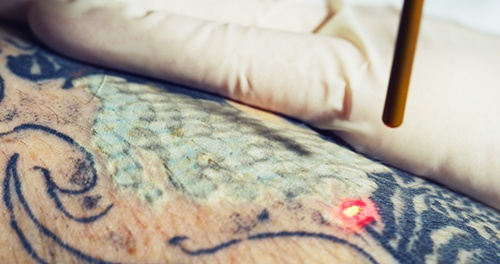 2018 is finally here which means it's time for resolutions to take effect. New Year's resolutions are commonly used as a way to reflect and reevaluate life choices. Most people make resolutions to set goals and improve habits in the coming year. For others, however, it's all about clean slates and fresh starts.
While the majority of resolutions revolve around eating more healthily, exercising more, or spending less, many tattooed individuals wish to say goodbye to their unwanted ink and eliminate their tattoo regret.
Here are a few regretful tattoos that people might want to get removed in 2018:
---
Oakland Raiders No More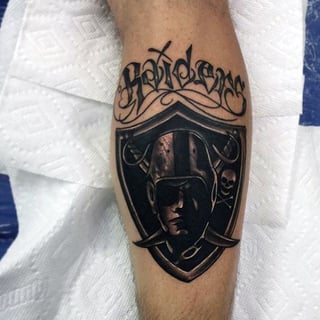 Raiders fans are some of the most loyal and committed fans in the world of sports. And if any sports fan is going to show love for their team by getting inked, it's going to be Raiders fan. Unfortunately, after playing 45 seasons in the Bay Area, the Oakland Raiders are relocating from Oakland, California to Las Vegas, Nevada.
NFL owners allowed the franchise to relocate to Las Vegas and leave their longtime home, making many fans upset, to say the least. We have a feeling that many inked Raiders fans will seek laser tattoo removal this year if they haven't already done so.


Premature Prediction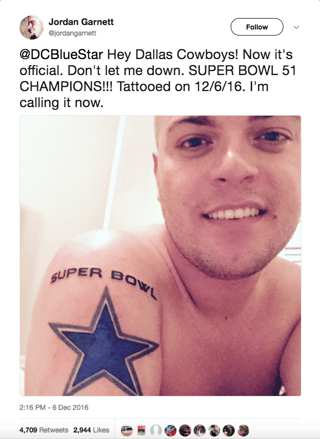 One of the most popular tattoos that people get are sports tattoos. Oakland Raiders followers aren't the only fans that show allegiance to their team through permanent tattoos. Jordan Garnett, a 24-year old Dallas Cowboys fan, got a premature tattoo that predicted the Super Bowl LI victory of the Dallas Cowboys. Garnett's "Dallas Cowboys Super Bowl LI Champions" tattoo, unfortunately, acted as a jinx in the eyes of many Cowboys fans as the Dallas team get eliminated from the playoffs after losing to the Green Bay Packers. After the loss, Garnett had his "LI" changed to "LII".
This year, when the Cowboys failed to make the playoffs, Garnett had another roman numeral "I" tattooed to his arm, continuing his hope for the Dallas Cowboys to win Super Bowl LIII next season.
Make Tattoos Great Again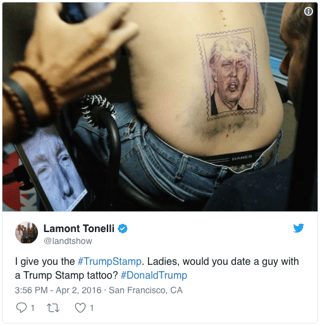 2016 was one of the most heated presidential elections in American history. Two of the most controversial candidates, Donald Trump and Hillary Clinton, went head to head and had some of the most passionate followers. Some followers were more passionate than others and felt the need to show support for their candidate through permanent ink.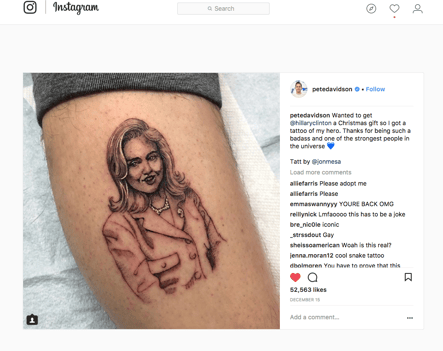 Even SNL member Pete Davidson recently got a tattoo portrait of Clinton to show his unwavering support.
Although Clinton lost the presidential election, her ink lives on in the dermis of her many followers. Who knows if they'll end up removing their ink later down the road. All we know is that a tattoo of Hillary Clinton or Donald Trump definitely shows more committment to your candidate than a Bernie Sanders bumper sticker.
---
All jokes aside, tattoo regret is a very real thing that many people with tattoos experience. No matter what your motivation for tattoo removal is, we want to help! Astanza can refer you to the nearest Astanza laser tattoo removal provider in your area. Contact us if you need a referral or want to learn more about this procedure.
If you wish to speak with an Astanza representative about marketing your tattoo removal practice, reach out by calling (800) 364-9010 or contacting us by clicking here.
Check out these other resources from Astanza: