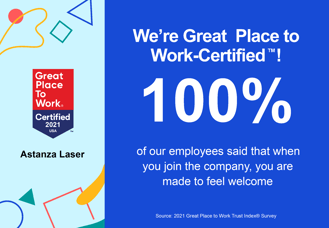 Astanza is proud to announce that we have been recognized as a Great Place to Work-Certified™ company! This certification is a huge testament to the strong brand culture and positive work environment Astanza has built over the past decade. At Astanza team meetings, we consistently reinforce that we're not just in the business of selling lasers. It's so much more than that–we're in the business of changing lives.
We change the lives of our clients by providing top-notch support across our four pillars, service, marketing support, training, and technology, to help them grow successful businesses and impact their communities. We change patients' lives by providing industry-leading lasers that help them change their appearance, boost their confidence, and remove unwanted blemishes, including gang-related and human-trafficking tattoos. And last but not least, we change the lives of our employees by providing a great workplace where team members can grow while feeling valued, heard, challenged, and supported.
Please keep reading to learn more about Astanza's company culture and what it means to be a Great Place to Work®-certified company.
---
Who is Great Place to Work® (GPTW)?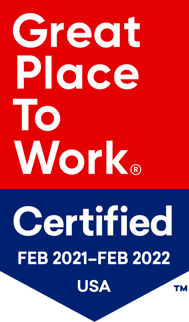 Great Place to Work® is the global authority on workplace culture. Its a people analytics and consulting firm that provides companies worldwide with access to assessments, data, and reporting needed to build a high-trust, high-performance culture that drives better business performance.
GPTW's mission is to help organizations and companies become a great place to work by improving the employee experience. To qualify for certification, companies must complete a Culture Brief™ and survey employees using GPTW's Trust Index™. The Culture Brief™ form contains a list of questions about workforce demographics and benefits provided by an organization. The Trust Index™ survey identifies the key drivers that make a place great to work at. This survey has been used for over 30 years across numerous industries and is the most widely taken employee survey worldwide.
To obtain certification, employee feedback from 7 out of 10 employees that take the survey must report a consistently positive experience. Furthermore, an organization must receive a Trust Index™ score of 65% or greater. We are happy to share that 100% of Astanza's employees participated in the survey, resulting in a 96% Trust Index score, landing Astanza in the top 5% of certified companies nationwide.
What does this mean for Astanza?
Last year, we were honored to receive the award of "Best Laser Company to Work For" at the Aesthetic Everything® 2020 Aesthetic and Cosmetic Awards. However, there's something even more gratifying about receiving a designation about your workplace based on your employees' actual feedback and honest responses. After receiving such a fantastic response from our team, Astanza is more motivated than ever to continue growing our family. We believe a positive workplace culture and happy employees are the driving factor behind Astanza's success and, more importantly, the success of our clients.
Astanza offers a dynamic work environment where initiative, creativity, and education are valued.
Interested in joining the Astanza team?
Visit our career page to see our available positions.