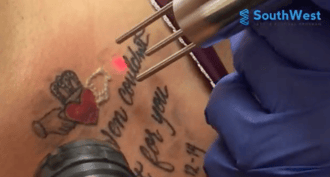 Astanza Laser hosted an informative webinar earlier this year for individuals interested in starting a laser tattoo removal non-profit organization. Deinked for a Cause: The Story of Non-Profit Laser Tattoo Removal provided information on successful non-profit organizations, tips on how to fund a tattoo removal non-profit, and included an in-depth Q&A segment.

One of Astanza's featured non-profit partners featured on this webinar was Southwest Tattoo Removal Program. You can learn more about the Astanza non-profit laser tattoo removal program and Southwest Tattoo Removal Program below.
Southwest Tattoo Removal Program

Astanza has helped support various non-profits nationwide including SouthWest Tattoo Removal Program in San Antonio, Texas. SouthWest Tattoo Removal Program has invested in Astanza technology to deliver low-cost tattoo removal for those in need across Texas. They believe the removal of certain tattoos helps individuals acquire better job opportunities, employment, military entrance, and police force acceptance without prejudice or discrimination. Their services start at just $25 per session, which is significantly more affordable than traditional laser tattoo removal clinic pricing.


Astanza hopes to bring more awareness to non-profits like SouthWest Tattoo Removal Program through our pre-recorded non-profit webinar, Deinked for a Cause - the story of non-profit laser tattoo removal.




Sign up to watch the pre-recorded 45-minute webinar and learn how non-profits are successfully using laser tattoo removal to remove tattoos and change their clients' lives.
If you are interested in starting a non-profit laser tattoo removal organization or receiving assistance with funding or grant writing for an existing organization looking to provide laser tattoo removal, please contact bhasenbauer@astanzalaser.com.