Astanza Laser is thrilled to attend the 2020 American Academy of Cosmetic Surgery (AACS) Annual Scientific Meeting in Las Vegas this year! Join Astanza at booth 427/429 at the Mandalay Bay Convention Center on February 27-29 for an exclusive look at the DermaBlate, MeDioStar*, and the PicoStar*, designed by Asclepion and back by Astanza.

See the future of aesthetic technology that's providing physicians and med spas with faster, more powerful solutions for laser hair removal, skin resurfacing, and tattoo removal. Learn about the latest German innovations in aesthetic laser technology during exclusive physician-lead breakout sessions and panel discussions.


What is AACS?
The American Academy of Cosmetic Surgery is the leading professional organization for physicians interested in continued education and skill development in cosmetic surgery and high-quality patient care. AACS has become the premier educational organization for dermatology, oral & maxillofacial surgery, otolaryngology, general surgery, ophthalmology, plastic/reconstructive surgery, and more. The AACS continues to serve its 1,600 members by offering live surgery workshops, their Annual Scientific Meeting, and other trusted resources for continued education.





Can't-Miss Sessions at AACS Meeting
During the 2020 AACS conference, attendees can learn more about the Astanza DermaBlate, the top-selling Erbium:YAG laser for the past 20 years used for deep ablation and skin resurfacing treatments. Hear various physicians' perspectives on this intuitively designed skin resurfacing laser during these sessions:
Thursday, Feb. 27 at 10:00 AM
"The One Laser I Can't Do Without & Why"
Moderator: C.W. Hanke, MD
Panelists: Neil Sadick, MD, Richard D. Gentile, MD & Ron Moy, MD
Saturday, Feb. 29 at 5:00 PM
"2940 nm Er:Yag Ablative Fractional Laser for the Treatment of Striae Distensae (SD)"
By Sheila Barbarino, MD

Meet the MeDioStar: The Future of Laser Hair Removal
Making a grand entrance at AACS this year, we're so excited to showcase the MeDioStar* by Asclepion, the latest innovation in safe and effective laser hair removal!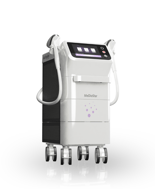 The MeDioStar* diode hair removal laser features the new, completely redeveloped Monolith handpieces made with the user experience in mind. The new Monolith handpieces feature a lighter, stronger, more ergonomic design and flexible cable. Asclepion's TAPER technology ensures even distribution of energy over the entire treatment area, preventing hot spots and reducing the risk of side effects. Also, the built-in 360° contact skin cooling system efficiently cools the epidermis and protects against burns.

The one-of-a-kind diode technology features a wavelength combination of 810/940 nm, variable pulse length (3 – 400 ms), and a cooling system that guarantees the safe treatment of all skin types (I – VI). With the power of up to 5,000 watts and a spot size of 10 cm2, the MeDioStar* penetrates deeper into the skin to destroy deeply embedded hair follicles. The dynamic mode allows short pulses at a high frequency of up to 20 Hz. All these features make the treatment more effective, faster, and more comfortable than ever before. MeDioStar* users can also enjoy a 10.1" touchscreen LCD, redesigned software, and a multifunctional trolley.


Connect with Astanza at the 2020 AACS Conference!
To learn more about the MeDioStar* and DermaBlate, Join Astanza Laser at the 2020 AACS Annual Scientific Meeting at the Mandalay Bay Convention Center in Las Vegas. Attendees have exclusive access to physician-led panels. To stay ahead in the ever-changing cosmetic surgery industry, click here or below to download your free copy of the ebook, "10 Tips to Market Your Aesthetic Practice in 2020."

*Not available for sale in the US. Device has been submitted to FDA for approval.