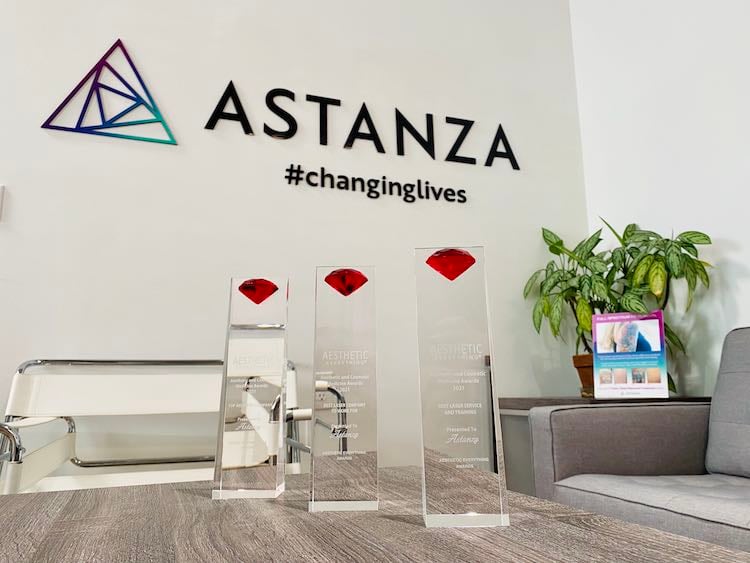 Astanza is equally thrilled and honored to share our latest achievement of winning three awards from the Aesthetic Everything® 2021 Aesthetic and Cosmetic Medicine Awards. This is the second year in a row Astanza received the awards for "Top Aesthetic Company," "Best Laser Service and Training," and "Best Laser Company to Work For" from thousands of nominations and votes from industry leaders in the Aesthetic Everything network.
Aesthetic Everything is the largest global network for aesthetic professionals. It is most well-known for its annual Beauty Expo Trade Show & Celebrity/Media Red Carpet Awards, where numerous leaders in the aesthetic industry gather for a night of festivities and celebrating accolades.
Astanza is delighted to be recognized once more for our hard work, strong team and client relationships, and growth as an aesthetic company. We count this as yet another huge milestone and confirmation that we're headed in the right direction. Keep reading to learn more about Astanza's award-winning features!
---
Top Aesthetic Company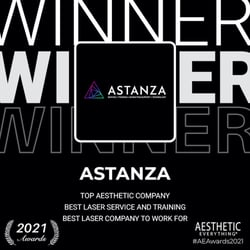 For those of you who have been following Astanza since our founding days in 2010, you know we weren't initially an aesthetic company, per se. Instead, Astanza's roots were strictly in laser tattoo removal – an industry we quickly rose to the top of before deciding to expand our product line into the broader world of aesthetics.
Five years later, we partnered with Asclepion Laser Technologies to introduce cutting-edge technologies like the MeDioStar, DermaBlate, and QuadroStarPROYellow and popular treatments like laser hair removal, skin resurfacing, vascular lesion treatment, and more. Over the past decade, Astanza's technology, training division (New Look Laser College), marketing support, and strong client relations have helped us achieve the status of a Top Aesthetic Company, and we couldn't be more proud.
Best Laser Service and Training
As with our technology, Astanza takes great pride in the service, training, and customer support we provide for our clients. Throughout the years, Astanza has focused on being a values-based company. While all of our core values encompass the goal of #changinglives for the better, we ensure our laser services and training division includes treating clients like family, providing excellent service, always being responsive to clients, and challenging the status quo.
Our carefully selected in-house service team of biomedical engineers, our virtual demos and support videos, the industry's fastest response times, and comprehensive VIP plans are all features that have earned Astanza the recognition for Best Laser Service and Training.
Best Laser Company to Work For
A challenge for many companies, both big and small, is creating a work environment where their team feels at home and their employees feel supported. To create that type of atmosphere, each team member, their ideas, and their passions need to be valued. As a small company, we make it a point to have everyone's contributions count.
By putting our employees first and being a values-driven company, Astanza has earned the designation of Best Laser Company to Work For. We've created a fun environment where everyone is needed, feels supported and is recognized for their hard work.
A good company is nice to be a part of, but being a part of the best laser company to work for is something that can be felt in all of our services and backed by our lasting client relationships.
If you want to learn more about Astanza and our team, give us a follow on LinkedIn. Thank you again to Aesthetic Everything and to all who voted for us in this year's awards!