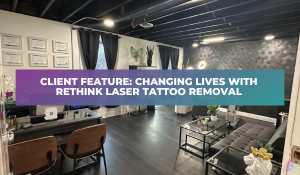 We're kicking spring off with an amazing Show Off Your Shop feature highlighting Rethink Laser Tattoo Removal in Rochester, NY. Astanza prides itself on offering the best technology in the aesthetic laser industry, but it's client relationships like these that make us shine.
Rethink Laser Tattoo Removal opened in the summer of 2022 and has quickly become a staple brand for removing unwanted ink in upstate New York. We interviewed owners Jordan Curran and Matthew Trenkler to learn more about the inspiration behind their business, how they're giving back to the community, and more.
Keep reading to learn more about Rethink Laser Tattoo Removal and get an exclusive look inside their business as they show off their shop!