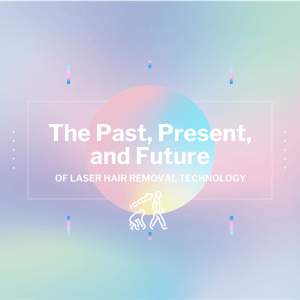 Laser hair removal is without a doubt one of the most sought after aesthetic procedures today. This in-demand treatment is popular amongst males and females and is constantly evolving thanks to advancements in laser technology.

Astanza recorded a webinar, The Past, Present, and Future of Laser Hair Removal Technology, which takes a deep dive into the history and origins of laser hair removal, discusses different components of this procedure and the technology used, as well as what the future of this procedure looks like for the aesthetic industry and your practice.

What You'll Learn
During this pre-recorded webinar, we cover various topics to help you better understand laser hair removal, the science behind it, and the best technology for this procedure. Here are a few points to look forward to:
Brief Overview of Laser History
Physical Properties and the Generation of Laser Energy
Laser Safety
Explanation of Aesthetic Laser Application
Best Practices in Laser Hair Removal
Current State of Laser Technology
Looking to the Horizon of Laser Technology
And more!
Comparisons Between Obsolete and New Technology

One of the highlight of the webinar is the discussion regarding how developments in technology are changing the entire hair removal industry. In the past, laser hair removal was seen as something that was uncomfortable to the patient, was slow, and wasn't a profit center for aesthetic practices. New devices are now being introduced that have greater speed, patient comfort, and effectiveness. With less discomfort and faster treatment speeds the profitability of laser hair removal is becoming a reality for many aesthetic practices. Technology such as what is integrated into the Astanza ReSmooth and NEW MeDioStar are changing these misconceptions.



Meet Your Hosts
The webinar was hosted by Astanza Team members, Josh Walsh (Sales Manager and Senior Laser Biomedical Engineer) and Brian Hasenbauer (VP of Marketing), and co-hosted by special guest, Judy Adams (Director of the Electrologist Society of Florida).
Josh Walsh is a laser guru with loads of experience working as a senior biomedical engineer for Astanza. He is also a trusted sales manager who is valued by Astanza clients for his service expertise and laser knowledge.
Brian Hasenbauer leads Astanza's marketing department and oversees all website and blog content, sales support, tradeshows, and more, the list goes on and on. Brian often hosts or moderates webinars and is a great source of information for Astanza clients and other aesthetic practitioners.
Judy Adams is a seasoned hair removal practitioner and leader in the laser hair removal industry. She is President of the Judy Adams Training Center of America and provides continuing education and resources for electrologists and other medical professionals interested in laser hair removal training.

Watch the Pre-Recorded Webinar
Interested in learning more about the Past, Present, and Future of Laser Hair Removal Technology? Click here or the image below to access the free, pre-recorded webinar.