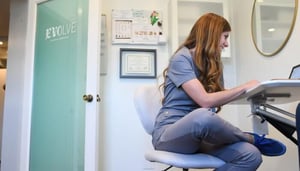 National Tattoo Removal Day is back and we couldn't be more excited! In honor of today, we are highlighting one of our favorite Astanza client duos, Holly and Aaron Della Vedova, owners of Evolve Tattoo Removal and Guru Tattoo .
Evolve Tattoo Removal was recently featured on the Fireside Tattoo Video Podcast where they answered frequently asked laser tattoo removal questions and shared insight into their business. Keep reading to learn more about the Della Vedovas and Evolve Tattoo Removal's growing success.
Meet the Della Vedovas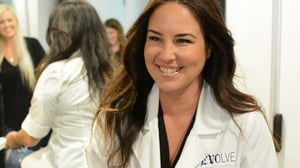 Holly Della Vedova is the co-owner and business operator of Evolve Tattoo Removal. Her passion for the tattoo community and medical aesthetics prompted her to open Evolve Tattoo Removal. She is extremely knowledgeable in all things laser tattoo removal and spent many years learning the ins and outs of the procedure including patient protocols, tattoo removal technology, and much more. She is responsible for hiring and training staff members and has earned the respect and recognition from tattoo artists, physicians, and laser tattoo removal practitioners throughout San Diego, CA and other states for her deep understanding of this popular service.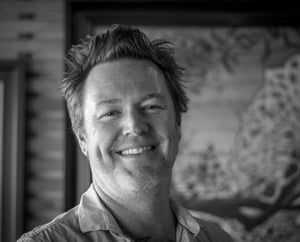 Aaron Della Vedova is the co-owner of Evolve Tattoo Removal and Guru Tattoo studio. He is a very skilled tattoo artist who is renowned for his large, bright custom tattoos. Aaron is constantly pushing the boundaries of his artwork and has an impressive portfolio to prove it. Since incorporating laser tattoo removal, Aaron has found he is able to produce better cover-up pieces by fading tattoos to create a cleaner canvas.
In the Fireside Tattoo Video Podcast, the Della Vedovas discuss how tattoo artists, like Aaron, are using laser tattoo removal to deliver selective tattoo removal, complete tattoo removal, and improve their cover-up tattoos with tattoo fading/lightening. In fact, 30-40% of Evolve Tattoo Removal clients come in to lighten their tattoo prior to getting a cover-up tattoo. Holly and Aaron attribute their success to a wide variety of things. Here are a few of our favorite takeaways from their podcast interview:
Know Your State Regulations
In California, only licensed medical professionals like nurses and physicians are allowed to perform laser tattoo removal. Furthermore, businesses in California are also required to have a medical director. If you're planning on starting a laser tattoo removal business, it's best to do your research and know your state regulations before jumping the gun. Read our blog on state regulations to find out what's required in your area.


Invest in the Right Laser
When it comes to laser tattoo removal, the technology you use plays a huge role in your success - if not the biggest role. Holly has invested in the Astanza Trinity laser and credits the system for helping them deliver great results across all patient skin types and the widest spectrum of tattoo colors. Before opening, Holly heavily researched different types of lasers and almost bought the PicoSure thanks to their substantial marketing claims that picosecond lasers deliver faster, better results than Q-switch YAG lasers. However, over the last 3.5 years, many clients came to Evolve Tattoo Removal to finish the job that their previous provider's picosecond laser could not achieve. A handful of physicians have even filed class-action lawsuits against Cynosure for their false claims on treating all tattoo colors in addition to the laser causing numerous patient injuries and ineffective tattoo removal.
Build a Strong, Knowledgeable Staff
Holly shared that it took two years of researching, training, and hiring before they were ready to open their doors. Because of California's regulations, she knew she had to find the right medical practitioners to operate her lasers. A few things she looks for when interviewing nurse practitioners are what their background is, what experience they have with lasers (the type of laser, the laser manufacturer, if they know how often their laser was serviced, etc.), and how often they have performed laser tattoo removal. Unlike medical spas and physician practices whose practitioners spread their time and skills across numerous procedures, Evolve Tattoo Removal laser practitioners focus strictly on removing tattoos, making them true experts in this procedure. Astanza's training division, New Look Laser College, provides in-depth didactic and hands-on training throughout the year.
Honesty is the Best Policy
It's widely known that laser tattoo removal is a lengthy process that requires time and patience. However, many tattoo removal businesses will try to persuade patients to book treatments by giving false hope. Holly and Aaron have heard of businesses that cut down the waiting time between treatments and increase their laser power in order to speed up the removal process or meet a patient requested deadline, only to have the patient experience unwanted side effects. Evolve Tattoo Removal believes in telling clients how it is and only using the safest protocols for each unique tattoo and patient skin type in order to achieve the best results. In doing so, they've become the leading laser tattoo removal business in San Diego.
Watch the full interview here:


---
We couldn't be prouder to have our technology used by Holly, Aaron, and the entire team at Evolve Tattoo Removal. National Tattoo Removal Day was founded to shed light on the tattoo removal industry, encourage individuals interested in removing or modifying their tattoos to finally take the plunge, and also recognize practitioners and laser tattoo removal businesses like Evolve Tattoo Removal around the world.
We hope everyone had a great #NationalTattooRemovalDay and we can't wait to celebrate with you all next year!