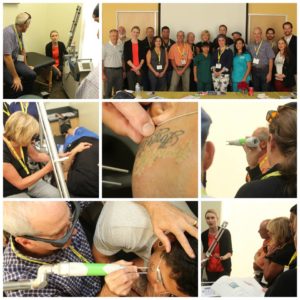 Astanza will be attending the annual 2018 Global Homeboy Network Gathering conference which takes place between August 26 - August 29th. One of the panel discussions will focus on laser tattoo removal's role in rehabilitation, and workforce re-entry and the positive impact Astanza's non-profit program has had on those served by Homeboy's laser tattoo removal program.
The Global Homeboy Network Gathering was launched in 2014 to provide strategic guidance and structural insight to organizations that wish to replicate the success behind the Homeboy Industries model.
Since then, hundreds of organizations across the globe have gathered each year to provide workshops, best practices, and panel discussions to help communities offer employment skills training, cost-free services, and social enterprise employment. The overall goal of the Global Homeboy Network is to support organizations change lives and become productive members of their communities.
Astanza Laser and Homeboy Network Relationship
Homeboy Industries invested in Astanza laser technology to improve their tattoo removal program in 2014. Since then, they've been able to help thousands of youth, former gang members, and previously incarcerated individuals remove their tattoos to find employment opportunities. Astanza's motto of changing lives is what helped cultivate the relationship between Astanza and Homeboy Industries. As part of this desire to use laser tattoo removal to impact the lives of those wanting their tattoos removed, Astanza has created a unique non-profit program that was put in place to help the Homeboy Network serve more people in their communities.
The tattoo removal program at Homeboy Industries is free of charge and consists of the following:
35 volunteer doctors

Four Astanza laser tattoo removal machines

3,000 tattoos treated for 950 clients per month

Priority on gang-related tattoo removals

Improves employment prospects and makes parents better role models
2018 Global Homeboy Network Gathering Schedule
Sunday, August 26
4:00-7:30ish

Late afternoon/early evening reception

Location: Homeboy Industries
Monday, August 27
Evening

Details TBD

An additional networking/social event is likely
Monday and Tuesday, August 27 and 28
7:45am-4:30/5:00pm

Workshops/Panel Discussions/Keynotes

Location: California Endowment
Wednesday, August 29
8:30am-1:00/2:00pm

A casually planned day of technical assistance for those who've not had the opportunity to visit Homeboy

Location: Homeboy Industries
Astanza and Non-profit Laser Tattoo Removal
Astanza has partnered with various non-profit organizations nationwide to provide free or low- cost tattoo removal to specific individuals in need. In our continued efforts to change lives and positively impact those around us, we are hosting a special webinar that highlights laser tattoo removal in the non-profit industry: Deinked for a Cause - The Story of Non-profit Laser Tattoo Removal.




Sign up to watch the pre-recorded 45-minute webinar and learn how non-profits are successfully using laser tattoo removal to remove tattoos and change their clients' lives.
If you are interested in starting a non-profit laser tattoo removal organization or receiving assistance with funding or grant writing for an existing organization looking to provide laser tattoo removal, please contact bhasenbauer@astanzalaser.com.