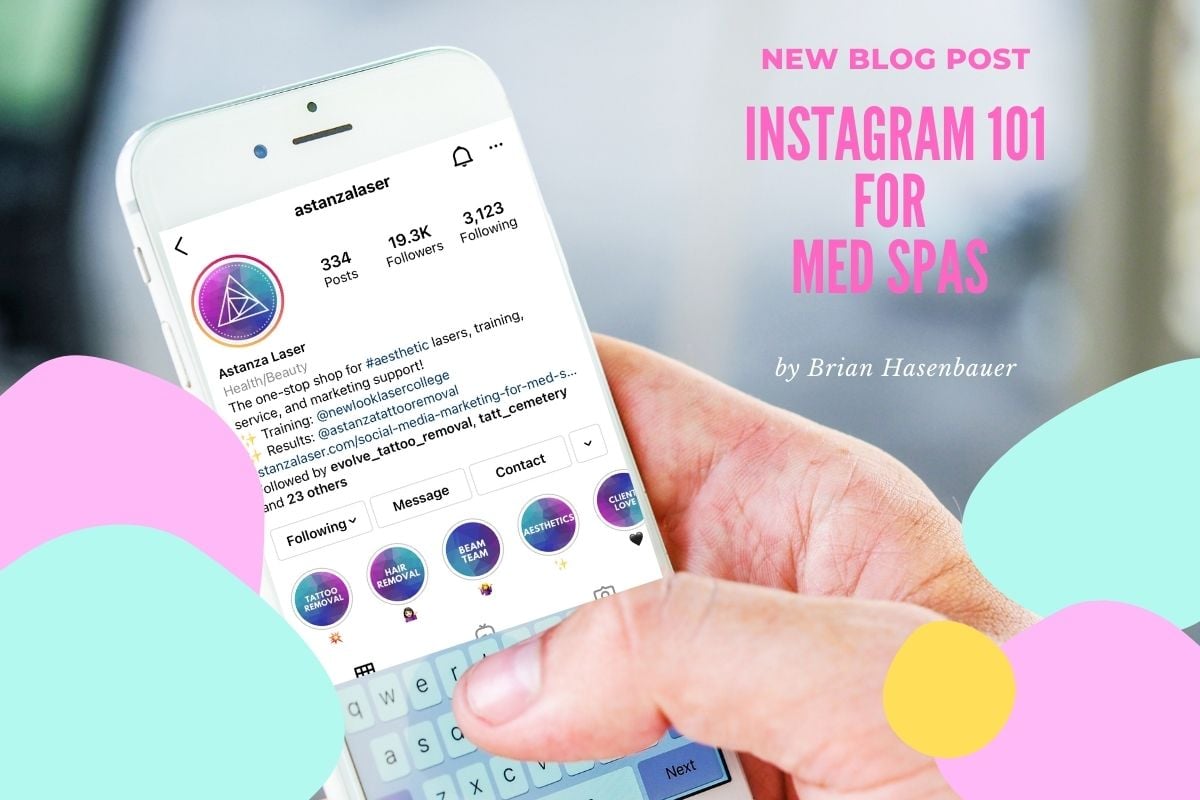 Establishing a presence on a social media platform is not as easy as most envision. Though it isn't challenging to create an account to participate in social media, making significant connections with users and providing a steady stream of informative content is challenging. However, the payoff for your medical spa joining Instagram and additional social media platforms is worth investing time, energy, and money.
Recognize the Importance of Instagram for Med Spas
Regarding social media for aesthetic practices, Instagram is essential as it is an image-oriented site. Those interested in medical spa services typically care a great deal about aesthetics, health, and comfort. In other words, there is considerable overlap between a medical spa's target audience and Instagram users. Seize the opportunity to establish a presence on this growing social media platform, and it won't be long until your phone starts ringing, your website receives more traffic, and your appointment book fills up.
Instagram is a golden opportunity to put your value offering on full display for prospective customers and current clients. Be active on the platform and your posts will heighten awareness of your services, establish connections with new clients, and provide intriguing images that your followers will be inclined to share with their digital social circles.
Social Media for Medspas: Tips for Using Instagram
Social media for medical spas requires a different approach than what everyday people use. Merely posting the occasional image of a glamorous customer freshly treated at your medical spa will not suffice. If you don't provide your followers and potential leads with a steady stream of shareable content, interest in your spa's Instagram account will stagnate or even dissipate. A steady stream doesn't mean you should post a new image or video of treatments every single hour or even once per day. Instead, updating your medical spa's Instagram account at least a couple of times per week with service updates, before and after photos, staff features, event details, and more will pique the interest of potential customers, steering that much more web traffic to your Instagram account as well as your website and your brick-and-mortar location(s).
Put Your Spa's Merits on Full Display
Instagram is an opportunity to present your spa's services in the best possible light. If you are particularly proud of your treatments, show them off on the "gram" with videos and pictures. Use "before and afters" to make it clear how your spa services can transform clients' aesthetics as well as their confidence. An image of a smiling client who just had a tattoo removed juxtaposed with a "before" shot of the unwanted tattoo makes it abundantly clear that your services have the potential to change a clients' entire demeanor. Focus on sharing images and videos of aesthetic enhancements that are visible, and those who visit your Instagram page will use their mind's eye to envision how those services can improve their visual beauty and also transform their well-being.
Obtain Client Consent Before Using Their Image!
You must obtain written legal consent from clients you would like to feature in your Instagram posts, regardless of whether those clients are pictured in photographs or appear in short videos. If you use Instagram for laser tattoo removal pictures or to show hair removal progress, you will need client consent to feature individuals on your social media.
Print out some media consent forms and keep them stacked at your spa locations so your clients can sign their name, providing consent to use their image in your social media content. Furthermore, it is in your best interest to use your own curated content when posting to Instagram instead of pictures from other accounts, websites, stock photo sites, or other platforms. Keep in mind, some images and videos are legally protected, meaning your business might be sued for using such material on your Instagram page.
Spread the Word
Though some interested prospective customers will search Google for your business's Instagram account, most won't visit the page unless prompted to do so. Add a link to your Instagram profile in your email signature, your business card, your website, and the rest of your social media accounts. Providing such links will steer web traffic in your direction and promote sharing your Instagram page with those in your followers' social circles.
You can build momentum for your Instagram page by holding a contest. Invite Instagram followers to like, comment, or share a post to be entered into a drawing for a prize. Another idea is to hold a contest for a photo caption in which your followers type up their best sentence or two to caption one of your images. Be creative with your Instagram page, continue to update it with fresh new content, and it won't be long until your follower count grows, ultimately ramping up traffic to your medspa both online and offline.
Astanza's award-winning marketing team assists clients with brainstorming social media campaigns, social media graphics, Google AdWords pay-per-click, and so much more.