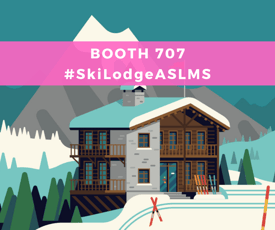 Join Astanza Laser at ASLMS 2019!

Astanza will be exhibiting at the 39th ASLMS Annual Conference on Energy-Based Medicine and Science March 27 - 31, 2019 in Denver, Colorado. Find Astanza at Booth #707 (a.k.a. the Ski Lodge) at the Colorado Convention Center.

Trust us - You don't want to miss out on some sweet deals and giveaways from the Astanza Ski Lodge!

We're thrilled to showcase Astanza's extensive aesthetic laser lineup at ASLMS this year alongside other companies striving to challenge the status quo in biomedical technology! The ASLMS conference has historically been a hotspot for those leading the aesthetic industry in with medical lasers, biomedical devices, research, clinical studies, education or manufacturing.

"We're so excited to be a part of ASLMS! Astanza has been expanding its product line as well as exclusive services we offer our clients, so we can't wait to give attendees a taste of the awesome things Astanza is ready to serve up in 2019," said Brian Hasenbauer, VP Marketing. "Come warm up at the Ski Lodge with Astanza!"





This year at ASLMS, we'll be showcasing not only the Astanza ReSmooth (elite practices' preferred diode laser for effective and lasting hair removal using industry leading spot size), but also the Astanza DermaBlate, a fresh take on skin resurfacing.

"The ReSmooth and the DermaBlate have been changing the way our clients are able to treat their patients," said Brent Nixon, VP Sales. "They're able to treat a man's entire back for laser hair removal within five minutes, or help patients find a fresh-faced glow with a quick Celebrity Peel treatment. That's a game changer!"

If you're interested in learning more about the ways Astanza Laser technology is improving patient care and practitioner efficacy, join us at ASLMS! We'd be more than happy to share our latest technology, updates and findings with you at this exclusive event. (Plus, you'll hear what all this #SkiLodgeASLMS hullaballoo is about!)

See you at the #SkiLodgeASLMS!


Learn More About the DermaBlate Before ASLMS!

CLICK HERE TO SIGN UP
for the exclusive webinar hosted by Astanza:
Skin Resurfacing Reimagined - Introducing the Astanza DermaBlate!
Attendees will learn more about how the DermaBlate is revolutionizing skin resurfacing and ablation treatments. Hear why the Astanza DermaBlate is the most powerful, versatile and controllable Erbium laser on the market, revolutionizing the treatment experience for both patients and practitioners.
FREE TO VIEW!
WHEN:

March 21, 2019 @ 2:00 PM CST

SIGN UP FOR THE WEBINAR HERE