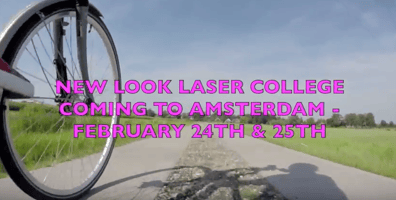 New Look Laser College is heading to Europe for their first international training course of 2018. In a few weeks, students in Amsterdam interested in learning how to remove unwanted ink with laser technology can receive expert training from the world's leaders in laser tattoo removal.
New Look Laser College has held numerous courses in Amsterdam in the past and has helped business owners establish successful tattoo removal clinics. We are returning again this year due to the popularity of courses and high demand from students looking to enter this growing industry.
New Look Laser College will host the Amsterdam laser tattoo removal course on February 24 and 25. The 2-day course will cover a variety of topics including laser safety, laser protocols, laser physics, clinic operations, marketing and business strategies, and much more. Students will also be able to practice on actual patients with unique tattoos and diverse skin types.


The laser tattoo removal industry is continuing to grow and demands the need for more tattoo removal providers. New Look Laser College hopes to spread their expertise to Europe and help more entrepreneurs, tattoo shops, laser clinics, physicians, medical spas, and other providers enter the laser tattoo removal field and help people get rid of unwanted ink.
New Look Laser College's second international trip will take place in Prague on June 23 and 24. They hope to expand their teaching to even more places in Europe and beyond.
To register for the New Look Laser College Amsterdam course, click here.