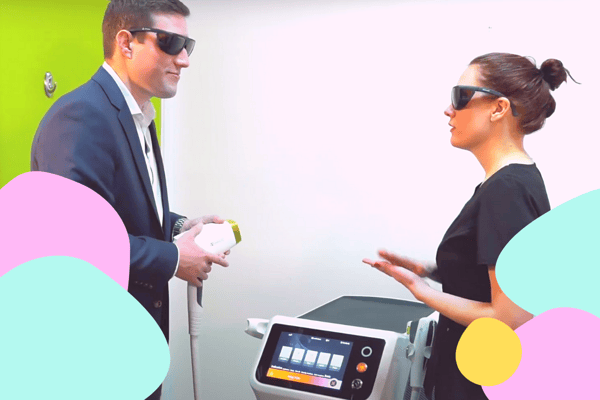 Finding a laser hair removal device that both patients and practitioners enjoy historically has been no easy feat. Luckily, the new Asclepion MeDioStar diode laser checks all the boxes: fast, effective, powerful, comfortable, safe for all skin types, easily customizable treatment parameters, ergonomic design made with the busy practitioner in mind, and more. Recently, Astanza hosted Holly Hashop, a Registered Nurse from Austin, TX, at our Dallas headquarters to demonstrate the MeDioStar and allow her to experience firsthand what the buzz was all about. Keep reading to learn about her demo experience and watch a recap video!
Hashop is no stranger to the ever-changing landscape of the aesthetic laser industry. After treating countless patients with many different lasers, she was eager to find a hair removal laser that delivered on all fronts.
"As an RN with six years of working with various hair removal lasers, I've been frustrated with how painful the treatments can be for clients and how long the treatments take," said Hashop. "It's nice to see a laser, like the Asclepion MeDioStar from Astanza, address each of these issues and finally design a laser that practitioners want to use. Patients love it as well. It's pain-free, fast, and does a great job."
During this demonstration, Josh Walsh (Astanza Laser Biomedical Engineer and Business Development Manager) walks through the MeDioStar's seamless user experience with Hashop, highlighting just how intuitive and straightforward the device's user interface is. Practitioners can select preset treatment parameters based on the patient information they input: desired treatment, Fitzpatrick skin type, and hair density and thickness. Alternatively, practitioners can also choose to manually select their preferred fluency, time, speed, etc., instead. This dichotomy of using preset treatment parameters and choosing your settings allows practitioners to quickly and easily prep the device while also customizing treatment to each patient's unique needs.
"The machine knows exactly what you're looking for and will pre-populate those settings," said Josh.
By selecting your patient's unique information, the MeDioStar can deliver the safest, most effective laser hair removal procedure possible. This more inclusive treatment experience is especially important when treating darker skin tones (skin types IV-VI). Until now, laser hair removal was not considered a safe option for patients with darker skin types because of the higher risk of hypopigmentation. The MeDioStar uses 810 nm and 940 nm wavelengths, allowing for safe and effective hair removal for all skin types. These two wavelengths have relatively low absorption rates of melanin, significantly decreasing the risk of hypopigmentation. Thanks to the MeDioStar's unique wavelength combination, any and every patient has the opportunity to safely and effectively remove unwanted hair.
Holly treats patient Whitley's legs and underarms after a quick setup, and much to her surprise, the treatment feels comfortable and painless.
"I just can't believe how painless it is!" said Whitley. We learned that this was Whitley's first-ever laser hair removal treatment, and she'd been nervous about undergoing the procedure because of how painful she'd heard it could be. Unfortunately, this is true for many patients.
Like Whitley, fear of pain and discomfort has been a leading reason why patients don't opt for laser hair removal. Only recently have laser manufacturers taken small steps to increase patient comfort, but the new MeDioStar is the first laser to truly deliver a more enjoyable treatment. Its built-in 360-degree contact cooling cools the skin before, during, and after the procedure, making sure patients don't feel the heat caused by the laser energy.
Holly points out how easy and comfortable the MeDioStar is for practitioners to use during Whitley's treatment. "The handpiece is really easy to maneuver considering how big the spot size is," said Holly. (And yes, the MeDioStar has the largest spot size available for hair removal lasers, measuring 10 cm2.)
Just as important as patient comfort, Asclepion designed the MeDioStar with the practitioner's comfort in mind as well. Knowing that med spas are busy environments, the MeDioStar handpieces' lightweight design (regardless of spot size) prevents practitioners from suffering through tired wrists and strained forearms after a long day of treating multiple patients. Users also don't need to worry about awkwardly twisting and turning the handpieces to find the best angle or avoid "hot spots" thanks to a flexible handpiece chord and fully homogenized handpieces. Many older lasers are not homogenized, leading to uneven energy distribution and virtually missing areas of the skin during treatments - warranting more treatments to make up for missed spots.
After treating her legs and underarms, Whitley left Holly's demonstration satisfied with her procedure and eager to continue the process.
Said Whitley, "My treatment today was great. I was really nervous about pain, but (I had) zero pain. It was awesome. I have never had laser hair removal, so that's why I was pretty nervous coming in here, but Holly made the experience really great. I expected a little bit of burning or popping sensation during the treatment, but I only experienced that once or twice. The treatment was very fast. I was very surprised (by) how fast the treatment was. I will definitely be getting laser hair removal again in the future!"
Astanza was thrilled to help deliver a laser hair removal experience that exceeded expectations and left both practitioner and patient content with the process from start to finish. The MeDioStar has been making waves in the aesthetic industry as practitioners' first choice for competitive hair removal lasers. Popular among some of the most influential, distinguished plastic surgeons, the MeDioStar can even be found in Dr. Jason Emer's world-renowned aesthetic clinic.

To learn more about Dr. Emer's experience with the MeDioStar in his clinic, click here or below to watch the free pre-recorded webinar, "Dr. Jason Emer Talks Advanced Laser Hair Removal for Med Spas!"

To receive information about the MeDioStar and how to purchase one for your clinic or practice click here.