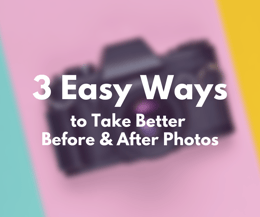 Improving before and after photos of your laser treatments can be as easy as making three simple changes. Making a few key adjustments to your photo-taking routine can help you not only clean up your portfolio, but also stand out to potential customers in the ever-changing and competitive aesthetic industry.

Keep reading for some helpful tips and download the pre-recorded webinar, Mastering Before & After Photos to Grow Your Aesthetic Business.


1. Keep it consistent
One of the simplest things you can do to start taking better before and after photos of your aesthetic laser treatments is aim for consistency. This means keeping lighting and treatment area placement the same between your patients' photos.

We suggest taking photos in the same room each time your patient comes back for a treatment. It's also helpful to review the images taken during their previous visits to achieve the same positioning of the treated area. Learn about a "ghosting" feature Astanza uses to align each before and after photo perfectly.

2. A clean background is best
Another easy way to achieve consistency is to implement the same background in each photo. Whether taking before and after photos of tattoo removal or other aesthetic treatments, several of our clients have found that using household items can double as the best backdrops.

Try positioning smaller upper body areas (hand, wrist, forearm, etc.) on a white pillow across your patients' lap. Designate a "photo wall" in your office to photograph larger areas (a white wall will be easiest to maintain, but hanging a white bed sheet will work in a pinch).

3. Manage all your photos in one place
With multiple patients walking through your doors every day, it can be challenging to manage everyone's images in an organized and efficient manner. While there are several platforms to store patients' photos and track their progress, it's easiest to find one that works for you and stick with it. Make sure each employee responsible for patient intake and performing laser treatments is well-trained in whatever program/system you decide to use.

Astanza recommends a leading software used for taking, storing, and managing before and after photos of aesthetic laser treatments. Find out more during our Mastering Before & Afters webinar and how you can save on your subscription!

Need more tips?
These couple of tips can help you drastically improve before and after photos, but this is just the tip of the iceberg! Join Astanza Laser marketing gurus, Jessie Brandt and Amy Yan to view this pre-recorded webinar to learn more strategies for mastering before and after photos. Viewers will also learn how to use your before and after photos to grow their online presence and aesthetic business.

Click here or below to watch the pre-recorded webinar!