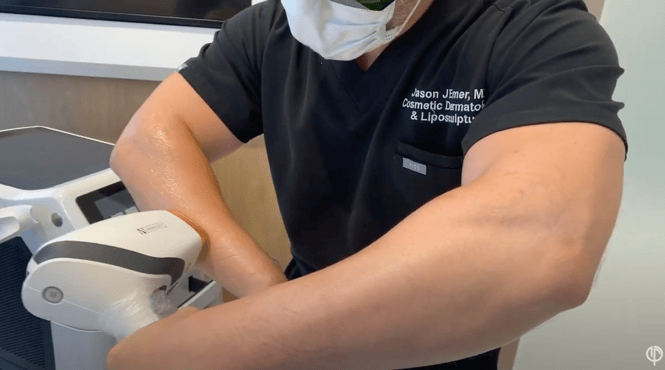 The Skin caught up with the renowned cosmetic dermatologist, Dr. Jason Emer, and discussed the most revolutionary diode laser hair removal device recently introduced in the United States, the Asclepion MeDioStar® backed by Astanza. The MeDioStar® diode laser revolutionizes hair removal treatment and other aesthetic procedures thanks to its intuitive design and leading advancements in technology. Featuring a cutting-edge cooling system, an industry-leading spot size, numerous treatment capabilities, improved overall user experience, and much more, the MeDioStar® is the preferred choice for aesthetic practitioners, dermatologists, plastic surgeons, and leading medical spas.
Dr. Emer Discussing the MeDioStar


Dr. Emer covered several topics related to hair removal and specific questions about the new Asclepion MeDioStar, including:
What do you like about diode laser hair removal versus other, more traditional treatment options like IPL?

Does the MeDioStar treat a wider variety of skin tones?

What does it feel like to get treatment? Is it painful?

Are there other benefits to treatment with the MeDioStar outside of smooth, hairless skin?

Are there any cons or risks to this and other hair removal treatments?

How many sessions does it take to get results?

How much do treatments cost?
We aren't going to scoop the Skin article and tell you all of the answers here, so if you want to learn more about Dr. Jason Emer and the Asclepion MeDioStar backed by Astanza, you can read the article in its entirety at:
https://gettheskin.com/body/body-care/thinking-about-laser-hair-removal-heres-what-you-need-to-know/
You can also watch an on-demand webinar that Dr. Jason Emer recorded recently with Astanza that gets into more clinical detail about why Dr. Emer chooses the MeDioStar diode laser for hair removal over other IPL hair removal devices.