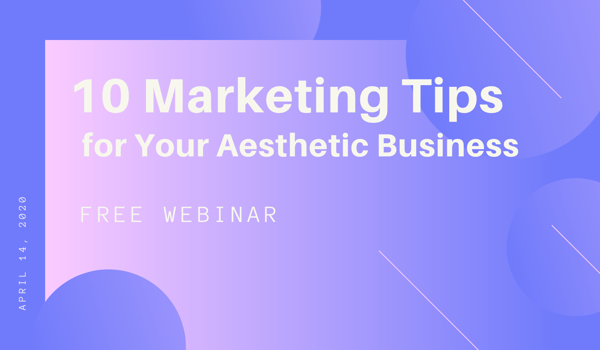 You'll want to check this out - Astanza is hosting an exclusive webinar on April 14 at 1:30 PM CST sharing marketing tips for your aesthetic business, laser clinic, med spa, or tattoo shop! This webinar is free to view, and registration is now open here (limit 100).

During the webinar, 10 Marketing Tips for Your Aesthetic Business, we'll offer proven marketing tips that can help grow your aesthetic clinic and expand (and retain) your client base. Hosted by our own boundary-pushing Marketing Team members, hear their insight on which marketing tactics can help your business move the needle (and which tactics to stay clear of). These are just a few topics and tips we'll share during the webinar:


Developing an Annual Marketing Plan
Creating an Annual Marketing Plan can be just as important as your Business Plan. Taking this first step will help you determine your goals, the steps to achieve them, and the general direction you need to steer your ship. Also, learn how to conduct a SWOT analysis for your business' marketing efforts and how to apply your findings!

Creating a Marketing Calendar
What is a "Marketing Calendar," and why do you need one? Implementing a simple Marketing Calendar into your strategy helps you stay ahead of the game and ensure you'll never waste more time wondering: "What should I post today? Where's all of my content?" We'll help you find the right marketing calendar style for your business model and show you important features to consider when building your own calendar.

Using Traditional and Non-Traditional Social Media
A thriving social media presence is more important than ever for any business-to-consumer operation. Learn which platforms are essential, and which are still emerging (but worth trying). We'll walk you through understanding your social media audience and the best content to post on each platform.

Retaining Customers and Building Brand-Loyalty
It's no secret that your clients are the lifeblood of your business. Stay up-to-date with the best ways to stay in touch with the clients you've earned, and learn how to nurture those relationships through outstanding customer service paired with thoughtful loyalty programs. We'll give you tips to make sure your clients always come back for more (and don't hesitate about staying with the same provider).

Getting Outside Help from Vendors

When is it time to seek outside help? Partnering with vendors (whether or not it's your first time doing so), can make business owners a little apprehensive. During the webinar, we'll provide some tips on deciding when it's time to bring in vendors to help achieve your goals. Plus, we'll offer advice on vetting vendors before signing a contract.


Ready to Amp Up Your Business' Marketing?
Join Astanza's Marketing Team for this exclusive webinar and get our full list of marketing tips from our field experts, Jessie Brandt (Brand Marketing Manager) and Amy Yan (Client Marketing Manager). This webinar is free to view and open to the public upon registration (limit 100). Watch the webinar, 10 Marketing Tips for Your Aesthetic Practice, live on Tuesday, April 14, at 1:30 PM CST! Click here to register now.

Can't watch it live? Never fear! We always email all registrants the webinar recording shortly after our live stream time and date.