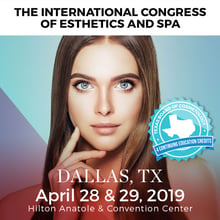 Astanza will be attending the 2019 International Congress of Esthetics and Spa (ICES) April 28 - 29 at the Hilton Anatole & Convention Center in Dallas, TX!

Visit us at Booth 718/720 and learn more about our extensive aesthetic laser product line, including our newest addition, the Astanza EthereaMX. For a closer look at the EthereaMX, sign up for our exclusive webinar, live streaming May 16.

The International Congress of Esthetics and Spa has been the perfect opportunity to connect with thousands of skincare, spa, and other aesthetic industry professionals. ICES is trusted among many experienced and influential industry leaders for delivering innovative technology, education and techniques helping other Med Spa professionals grow their businesses.

"We're so excited to exhibit at the International Congress of Esthetics and Spa this year!" said Brian Hasenbauer, VP of Marketing at Astanza. "We're looking forward to not only sharing the competitive devices and services we offer, but also learning more from other leaders in the aesthetic industry. Find us at Booth 718/720!"

During ICES, Astanza will be showcasing the Duality, ReSmooth, and EthereaMX. The Astanza Duality has long been practitioners' first choice for complete and effective laser tattoo removal. With its unmatched reliability and little to no downtime, the Duality has been dubbed our "workhorse laser." The Astanza ReSmooth has allowed Med Spas to provide complete, lasting laser hair removal and non-invasive vascular treatments regardless of their patients' skin color or hair type.




Making its debut during ICES, attendees can meet the Astanza EthereaMX at our booth and learn more about our newest platform laser that's transforming the aesthetic industry. Using the Etherea, practitioners are able to provide over 70 different FDA-cleared treatments with one device and seven interchangeable handpieces.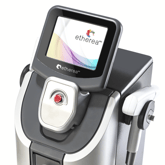 Most popular among Med Spa professionals because of its versatility, the Etherea can perform laser hair removal, tattoo removal, vascular treatments and various skin resurfacing and rejuvenation procedures.

Each handpiece is able to treat all skin types, with special safety enhancements in place for darker skin tones (skin types IV-VI).

To learn more about the each of these products, meet Astanza at The International Congress of Esthetics and Spa, Booth 718/720 April 28 - 29, 2019! For those unable to attend the conference, join us for an exclusive, free webinar introducing the Astanza EthereaMX! Webinar viewers will get to view real treatment videos and hear from Astanza's team of clinical experts how the Etherea is revolutionizing the aesthetic laser treatments and helping Med Spas become more competitive. Sign up here for the webinar!