It's the question on every aesthetic business owner's mind: How do I retain my current customers and build brand loyalty?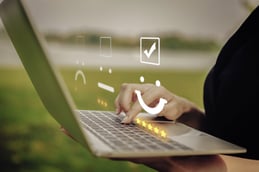 Every business owner hopes to make their clients happy and satisfied with the services they provide. And while you can't control your clients' emotional response to your work, you can do your best to elicit positive responses. Of course, aesthetic business owners know they have to deliver outstanding consultations, treatments, and overall patient experiences to gain repeat business and brand loyalty.
At the root of this age-old challenge is figuring out how to make it irresistible for clients to keep coming back (and use their powerful word-of-mouth to deliver referral business).
In this article, we'll discuss a few tips that can help turn your clients into raving fans, reduce patient no-shows, and keep them coming back for more!
Find What You Do Best and Run with it!
First things first: Understand what it is that your aesthetic clinic does best. Your "best thing" (or unique selling point) can include a range of factors. For example, at Astanza, our core pillars focus on Service, Training, Marketing Support, and Technology - four qualities we know potential consumers are looking for when buying a laser. When determining what you do best or what sets you apart from your competitors, examine all aspects of your business. Here are some examples that can help you get started:
Our aesthetic clinic is the only business within a 50-mile radius that uses _____ for _____ treatments.

We have a strong, aesthetically-pleasing brand that carries over into every aspect of our business. Our branding is highly identifiable.

Our clinic prides itself on treating clients like family. We know each patient by name, and we have several initiatives to foster our relationship with them.

We are the leading experts in ____ in our area, and we have the before and after photos and patient testimonials to prove it.
This step requires a bit of business-soul searching, but it's always beneficial to understand why current clients chose your business over your competitors. Understanding what makes your business unique will heavily influence how you market yourself. Your marketing strategies play a large part in setting patient expectations. Meeting and exceeding your patients' expectations impacts customer satisfaction and their likeliness to trust you, and ultimately, spend more money with you.
Nurture Your Brand & Focus on Overall Client Experience
Once you've gained a clearer perspective on your business's identity, apply those findings to your overall brand. The look of your brand and how you present it is essential. But don't limit your brand to just font pairings and color palettes. Make sure you spend time brainstorming words that convey how you want your brand to feel. For example:
warm, inviting, cozy, comfortable, put your feet up-vibe

chic, bold, clean lines, bright, glamorous

professional, simplistic, modern, while still approachable
Use this list of words to help determine your visual brand, not the other way around. In doing so, you can ensure your brand's look will match the heart of your business. Aesthetic clinics shine particularly well in this area and should use this to their advantage.
Choosing how to nurture your brand can play heavily into a client's overall experience and lead to repeat business. As a consumer, you know when a brand feels good when you actively seek out a shopping, dining, grooming, or med spa experience from the same business to indulge in that feeling time and time again. Aesthetic practices that have successfully created this delightful client experience are ones that harness their brand's identity and apply it across their website, social media accounts, waiting rooms, and more to create an impactful and lasting impression.
(Too long, didn't read version: Thoughtful branding = better customer experience = more eager repeat-customers.)
Your Clients are VIP: Treat Them as Such!
Your clients are the lifeblood of your aesthetic clinic. Without them, you wouldn't be able to grow, try new things, or even keep the lights on. In a highly competitive industry, you should treat your clients like family, put a heavy emphasis on customer service, and provide them with red-carpet treatment. Not only will this encourage brand loyalty, but it will also reduce the rate of patient no-shows. There are several ways you can create a sense of brand loyalty between your business and your customers. Here are a few tried and true options worth exploring:
Sending clients home with a gift bag of trial-size items/branded merchandise after spending a certain amount in a single visit

VIP Programs that include members-only discounts, payment plans, updates, and more

Attractive incentives for referring a friend or leaving a positive online review

Gift of their choosing or heavily discounted services during their birthday month

Members-first access to new products and services

Exclusive access to members-only lounge/perks (complimentary coffee, cocktails, snacks, etc.) at each visit

A personalized letter from their favorite staff member or laser technician



It's equally crucial to communicate with your clients to stay top-of-mind and ensure you retain their business. Email marketing, text message campaigns, social media, blog subscriptions, and even mailers or postcards are great ways to stay connected with your client base.
More Helpful Tips for Marketing your Aesthetic Clinic
Retaining customers and building brand loyalty in the aesthetics industry can be challenging, but it's always a worthwhile endeavor! We know it's more cost-effective to sell to current clients instead of finding new ones, and it's even more rewarding to build lasting relationships with your existing clients. For more helpful marketing, branding, and client retention tips, watch our webinar, "10 Marketing Tips for Your Aesthetic Business," hosted by Astanza's award-winning marketing team! This webinar was previously recorded and is free to view upon registration. Click here or below to watch now!