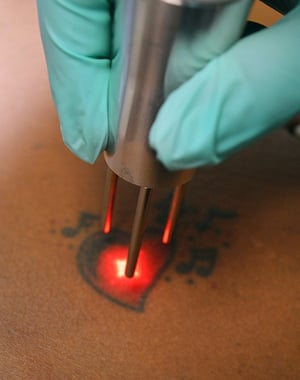 One of the most frequent concerns for laser tattoo removal patients is the pain of the procedure.
Although all tattoo removal patients have previously experienced the pain of having a tattoo applied, many are apprehensive about the discomfort associated with laser tattoo removal.
Pain responses to laser tattoo removal are varied. Most patients say the procedure feels similar to getting the tattoo, although some say it hurts less... and some say it hurts more. The sensation is commonly described as bearable yet uncomfortable and "similar to a rubber band snapping against the skin."
The vast majority of tattoo removal providers offer some form of skin numbing to patients during their appointments. You want to reassure your patients that they are in good hands and that you have the means to make them as comfortable as possible.
There are a handful of options for the practitioner dedicated to patient comfort: ice packs, numbing creams, injectable anesthetics, and cold air machines.
At Astanza, we've worked with a wide variety of practices, and we've seen different numbing methods be the right choice for different practitioners. Here, we've reviewed the most popular options for soothing the skin during laser tattoo removal treatments.
---
Ice Packs for Tattoo Removal Numbing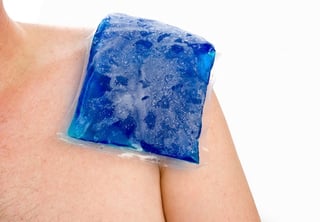 Ice packs are a surprisingly good option for clinics that do a low-to-moderate volume of tattoo removal treatments daily.
Easy and cost-efficient, ice packs simply work for numbing the skin. Within five or ten minutes of compression, your patients' skin will be adequately numbed to significantly improve the tattoo removal treatment experience.
The only downsides to providing numbing with ice packs are that there is a lower perceived value relative to other treatment methods and it can be a hassle to keep ice packs cold if there is a larger volume of patients. Also, ice packs cannot numb the skin during the treatment – only before and after.
Overall, ice packs are an inexpensive and convenient option for clinics – especially those just starting out in the field.
Pros:
Affordable
Effective
No Equipment Investment Needed
No Restrictions for Providers
Cons:
Tedious for High Volume Clinics
Cannot Numb During Procedure
Lower Perceived Value
Topical Numbing Creams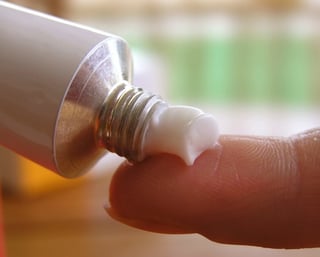 Numbing creams – such as Emla or BLT – often include benzocaine, lidocaine, prilocaine, or tetracaine in varying concentrations as active ingredients.
These creams are both available in low-strength, over-the-counter formulations and in high-strength, prescription-only formulations.
Patients generally like topical creams and see some benefit from it, although we've heard mixed reviews.
The main problem with creams is that they require time to take effect. Most creams need to be applied at least 30 to 45 minutes in advance of the treatment. For this reason, most practitioners encourage patients to apply the cream at home before their appointment.
Some clinics use numbing creams as the primary skin numbing method for laser treatments, while others offer it as an option available at an additional charge for sensitive patients wanting additional numbing. It is common for practices to charge around $40 for a tube of numbing cream (which is large enough for multiple uses).
Pros:
Works in Addition to Other Methods
Can be Sold for Upcharge
Anyone Can Sell OTC Formulations
Cons:
Must Be Applied in Advance
Moderate Efficacy
Lidocaine Injections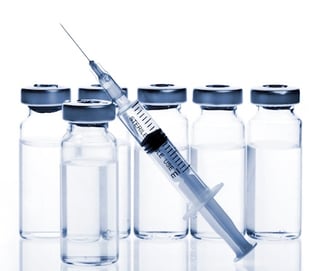 Unlike numbing creams, lidocaine injections can work instantly as a local anesthetic. However, it does take some time to make multiple injections, particularly for large tattoos.
Lidocaine injections are a popular numbing choice among plastic surgery practices, but generally are less popular than other numbing options as they can only be provided by medical professionals.
Similar to topical creams, lidocaine injections can be upsold to your patients as an extra charge. Practices that offer lidocaine injections for a fee (in addition to standard numbing with ice packs or a cold air machine) typically charge an additional $25 per treatment for the lidocaine.
Pros:
Affordable
Effective
Can be Sold for Upcharge
Cons:
Takes Time to Provide
Only Performed by Licensed Professionals
Some Patients Fear Needles
Tedious for High Volume Clinics
Cold Air Machines (Zimmer Cryo 6)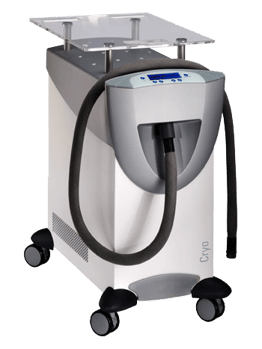 Cold air machines are present in virtually all high volume tattoo removal clinics because they provide fast and convenient numbing for the skin. Unlike ice packs, cold air can be applied to the skin before, during, and after laser treatment.
The Zimmer Cryo 6 cold air machine is the gold standard in numbing for the laser tattoo removal industry.
The system is designed for use in busy practices and is exceptionally reliable. It functions by emitting freezing cold air (-30°C) through a flexible hose.
By simply blowing this cold air on the skin for a few minutes, the skin will be thoroughly cooled for treatment – reducing pain and the risk of thermal injuries.
Patients enjoy the Cryo 6 for cooling their skin, and it makes the practice seem more advanced than if they used ice packs. Many practitioners allow patients to hold the hose of the Cryo 6, directing the air where they want the numbing most during their treatment, and keeping the patient occupied during the laser procedure.
If you expect to be performing a high volume of tattoo removal treatments, a cold air machine such as the Zimmer Cryo 6 is a great investment for your practice.
Pros:
Effective
Fast
Numbs During Procedure
Excellent for High Volume Clinics
No Restrictions for Providers
Higher Perceived Value
Patients Love It
Highly Reliable
Cons:
Requires Equipment Purchase
---
Providing a professional solution for skin numbing is important for delivering high patient satisfaction, establishing a good reputation, getting quality referrals, and growing your tattoo removal business.
With many skin numbing solutions to choose from, you can find the right option for your practice and patients. Many clinics start out with one numbing option (like ice packs) and eventually add on a Cryo 6.
Tattoo removal providers depend on patients returning for follow-up sessions, so it is necessary that patients feel comfortable and cared for while visiting your practice.
If you wish to speak with an Astanza tattoo removal expert about skin numbing or to order a Zimmer Cryo 6, call (800) 364-9010.
Learn More
Check out these other resources from Astanza: