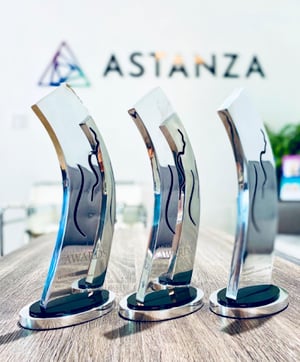 The 2020 MyFaceMyBody Awards is back, and Astanza needs your vote! MyFaceMyBody is one of the largest independent resources for consumers interested in the latest aesthetic industry news.
MyFaceMyBody delivers insights into cosmetic surgery, laser treatments, and beauty tips to help consumers make confident decisions regarding their health, wellness, and lifestyle choices.
For more than eight years, the MyFaceMyBody Awards has recognized numerous practitioners, medical spas, cosmetic and laser practices, and aesthetic brands worldwide for their innovation and dedication to customer excellence.
Last year, Astanza was fortunate to take home three MyFaceMyBody awards! We are excited to announce that we have been nominated for another three awards for this year's program.
Customer Service Support of the Year

Manufacturer or Supplier of the Year

Training Support of the Year
We believe these awards represent everything Astanza stands for and strives to deliver. In Astanza's early days, we made a splash in the aesthetic industry as the leading provider for laser tattoo removal technology. Since then, we've expanded our product line and partnered with other renowned manufacturers to supply our clients' the best lasers. Today, our brand is globally recognized for some of the most popular aesthetic treatments, including laser hair removal, skin resurfacing, vascular lesion removal, and more.
Furthermore, Astanza's technical support and training division, New Look Laser College, has led to thousands of practitioners and businesses' success. From our 3 Business Day Service Guarantee, lifetime training and clinical support, Business Builder System, and advanced technology line – everything Astanza offers is strategically built to give our clients the best assistance possible and support them every step of the way.
To help support Astanza and our dedication to our clients and the growing aesthetic industry, we would greatly appreciate it if you took some time to vote for us in the 2020 MyFaceMyBody Awards. Visit https://bit.ly/AstanzaGVAS or click the image below to submit your vote for Astanza!"
The deadline for voting is October 23, 2020. Thank you in advance for your vote!