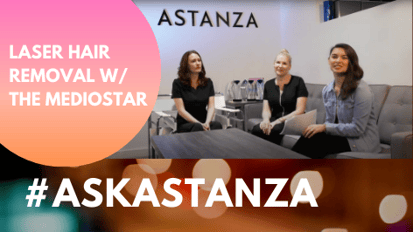 The video series Ask Astanza provides information about laser hair removal, tattoo removal, and other aesthetic treatments and topics of interest to those in the aesthetic industry and those looking for treatment. In the most recent episode of Ask Astanza, Registered Nurses Holly Hashop and Carolyn Webb discuss their experiences throughout the years working with other laser hair removal devices and companies and their newfound love of the Asclepion MeDioStar by Astanza. The MeDioStar is the fastest, most powerful diode hair removal laser available.
A few of the topics Holly and Carolyn cover with Jessie Brandt, Brand Manager at Astanza, include debunking some of the most common laser hair removal questions. Questions such as, "what's the difference between laser hair removal and waxing or electrolysis" and "what do practitioners want in a hair removal laser?" Watch the full Ask Astanza video below.
Laser Hair Removal Compared to Electrolysis and Waxing
The three most important factors to successfully remove unwanted hair are treatment speed, long-term effectiveness, and comfort level. When you look at each of these factors when comparing laser hair removal to waxing or electrolysis, laser hair removal wins in all three categories and far surpasses the other methods. When done with modern technology like the Asclepion MeDioStar by Astanza, laser hair removal is fast, effective, and painless.
Service and Training
Holly and Carolyn have worked with several laser manufacturers and distributors over the years. They have a good understanding of what's necessary for an aesthetic device company to offer its clients. Yes, having updated, modern laser hair removal technology is essential. Still, as Carolyn and Holly pointed out, it's just the beginning of what's required to be a leader in the aesthetic laser industry.
To be a true leader and a company that practitioners value, you need to be there for them with clinical consultations in addition to superior service and maintenance. Both Carolyn and Holly mentioned how appreciative they are of Astanza's award-winning service and training team that ensures their lasers are well-maintained and that their clinical questions are answered expeditiously.
Spot Size and Speed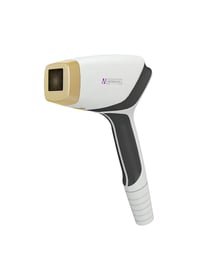 When asked, "what's important to practitioners?" both Carolyn and Holly mentioned treatment speed and ease of laser use being of critical importance. Having to stand over multiple patients per day with a slow, hard to use laser hair removal handpiece can wreak havoc on a practitioner's legs, back, and scheduling. The Asclepion MeDioStar features the largest spot size on the market at 10 cm2, and can treat up to 20 Hz.
To watch the full video, you can watch the embedded video above, or you can click on this link.
To learn more about the MeDioStar and inquire about purchasing, visit this page: https://astanzalaser.com/our-lasers/mediostar
Interested in starting your own laser hair removal business? Be sure to download our free, informational ebook: Expanding Your Aesthetic Business with Laser Hair Removal, to learn more about growing your revenue with this highly profitable and in-demand aesthetic procedure. It's free to download!