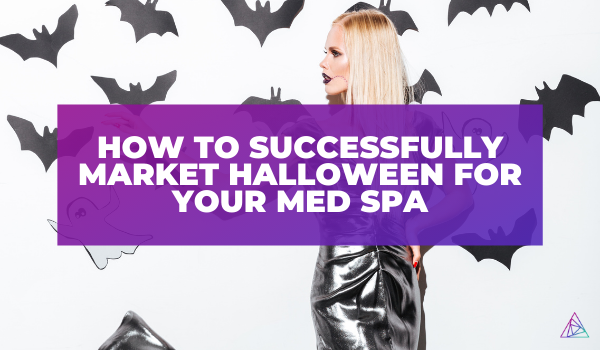 Halloween is one of the most festive holidays of the year and the perfect opportunity for aesthetic practices to BOOst profits. I mean, think about it. People are already buying costumes, fall decorations, pumpkin carving materials, Halloween candy, and even costumes for their pets to trick-or-treat themselves. So, why wouldn't they take advantage of a Halloween promotion or participate in a Halloween event from their favorite local aesthetic provider?
In this article, we provide the best tips and tricks to promote Halloween and market your medical spa successfully.
---
If You've Got It, Haunt It: Dress the Part
No matter the holiday, event, or discount, it should be obvious to prospects and clients that your business is marketing something. The moment a client walks through your door, they should easily be able to identify what you're promoting. An excellent way to kickstart your Halloween marketing efforts is by dressing up your practice.
'Tis the season to bring out the pumpkin-spiced candles, fake cobwebs, candy bowls, and skeletons. Be sure to display any Halloween promotions and event details where clients can easily see them. Next, utilize your waiting room's TV, frame or hang flyers at the checkout desk and in your treatment rooms, and of course – make sure your staff shares your business's Halloween promotion during every client interaction.
Give Them Pumpkin to Talk About: Get Social
But what good are Halloween decorations if there are no clients to see them? Just because you hang an event flyer on your bulletin board doesn't mean you'll book appointments; that's just witchful thinking. We live in a day and age where social media and the internet are kings.
If you adorn your practice with Halloween decor, share pictures on your website or post a video walkthrough on social media to get clients excited. If you're offering a special promotion or discount, don't forget to advertise it on your website and social profiles. We hear horror stories of businesses who advertise discounts on Google AdWords, but forget to mention it on their website, so prospects bounce because they think the deal isn't real. Cover all your bases on the worldwide [spider]web by making sure your website's homepage, pricing page, blog, and social media profiles are consistent with your offerings. Creating a content calendar can help you plan out what you're going to post, where and when you will share it, and ultimately stay organized.
Astanza has created FREE, customizable Halloween graphics to help your aesthetic practice market Halloween this year. Click here to download your fang-tastic Facebook, Instagram, and flyer designs.
Have Some Skele-fun: Throw a Halloween Party or Event
Everyone loves a good party, and Halloween is the perfect theme to eat, drink, and be scary. When throwing a Halloween event, consider the following fun ideas:
Offering a Halloween discount is an easy way to get clients under your spell. A great example is offering 31% off laser treatments like

laser tattoo removal, laser hair removal, and skin resurfacing for clients

who book an appointment at the event. You could also offer a free "Boo-tox" treatment with every treatment package purchase. The possibilities are endless, so get creative!
Offer early bird access for existing clients only. Provide a client-only promotion that encourages your existing clientele to invest in one of your other services. Remember, the success rate of selling to an existing customer is 60-70% versus 5-20% when selling to a new customer. To get even more bang for your buck, tell your clients to bring a friend or family member to the event and reward them with a referral discount. Treat your existing clients like brand ambassadors to get free word-of-mouth marketing.
Two words: Costume party. Encourage attendees to dress up and participate in a costume contest. Offer prizes or raffle drawings for a chance to win a free laser treatment, discounted spa service, or skincare set. Post #SquadGhouls photos of your staff in costumes leading up to the event to get customers excited, team members involved, and everyone's competitiveness activated.
Again, if you plan on throwing an event, make sure you market the event on your website and social media platforms and give yourself a minimum 3-week head start. During the event, share live updates on social media, encourage clients to post their photos and videos using your unique hashtag, and gather all of your guests' contact information so you can follow up with them later. After the event, send a thank you email to the attendees and post a recap of the party on your website's blog and social profiles. Click here to learn more tips on how to throw a successful med spa event.
---
Most importantly, have fun! Halloween is a festive holiday with numerous opportunities for you to get creative, celebrate with your clients, lift their spirits, and increase profits. Download our FREE Halloween graphics today and start planning your Halloween marketing campaign.